Blog Post
Nutanix CIO Wendy M. Pfeiffer's Path to the Qualys Board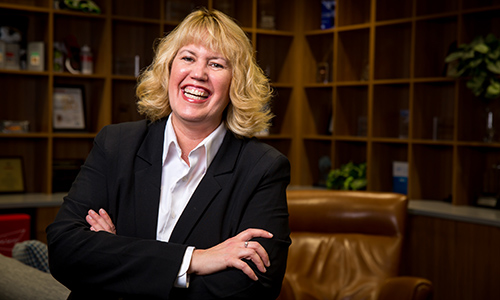 Serving on a corporate board means wearing many hats. You are a canary in a coal mine, as Homa Bahrami, senior lecturer & distinguished teaching fellow at UC Berkeley's Haas School of Business, points out. You are someone who might bring a contrarian or otherwise unique perspective. You are a mentor, an educator, a coach.
For Wendy M. Pfeiffer, chief information officer (CIO) of Nutanix, serving on a board was about using her 25 years of industry experience to help other business leaders make more informed decisions about the future of their enterprise. As a fervent technologist, it was important to Wendy that other companies be prepared to meet the demands of the next generation of consumers. And she felt ready for a new challenge.
But making it to the board of cloud security company Qualys didn't come easy for Wendy.
Just 22% of people on corporate boards in America are women. And according to a Deloitte study, just 5% of S&P 500 companies have technologists on their boards.
Wendy defied these odds, using her background as a tech and business leader, working her network and using Sapphire's Board Readiness workshops to help her articulate her differentiating value as a leader.
In this Q&A, Wendy walks us through all of the work that went into landing her a spot on the board.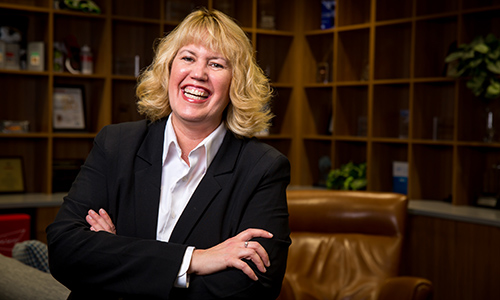 Q: Why did you decide to look for a board seat?
After a 25-year career in technology, including roles at Cisco, Yahoo, and most recently as the CIO at Nutanix, I felt it was time to give back.
I wanted to bring my expertise into a boardroom to help business leaders make more informed decisions about the future of their enterprise.
At the same time, I was looking for a challenge.
While I have a strong foundation in business, with my B.S. in business administration, I was excited to become fluent in the language of corporate boards and learn from my peers in a new setting.
Finally, I believe it's essential to get more technologists on boards. No company on earth today is not part of a tech ecosystem, and keen product-market discernment is how the best companies will thrive in the coming decades.
According to the U.S. Department of Labor, by 2020, Gen Z will comprise [more than] one-third of the global workforce, and we have to be ready to meet their demands or else risk falling behind. I knew I needed to walk the walk, not just talk the talk.
Q: Once you made the decision, what was your action plan to find the right fit?
First, I crafted my board bio to articulate my differentiated value.
A board bio should demonstrate your leadership experience, business competence, and industry knowledge.
For example, I'm an operator who has deep experience bringing technology products to market and then running them at scale. At Yahoo!, I was responsible for the world's largest commercial private network, and at Cisco Systems, I delivered the company's first ecommerce platform, CCO.
Next, I activated my network. I knew connecting broadly and personally would be critical to success. Sometimes, board appointments happen through personal networking, word of mouth, shareholder suggestions, and other informal channels.
I let different active board directors know I was looking for a board seat and asked for their advice and referrals.
I also attended seminars like Sapphire Ventures' Board Readiness Workshop in order to build skills and further extend my network.
Finally, I reminded myself that this process, as with my career as a whole, was not a race. Every experience along the way was going to be valuable to the final outcome, and I should take as much time as I needed to focus and find the right fit.
Q: What, specifically, helped you find your role on the Qualys board?
I did a lot of preparation before I began actively searching. I made sure my board file was ready to go at a moment's notice, did my homework to understand what, exactly, boards were looking for and how I could add value, and I identified and filled my own knowledge gaps so I'd be prepared to interview.
In addition, I was passionate about wanting to learn about a new arena, and I think that excitement was apparent in my conversations and interviews.
Lastly, understanding Qualys' product was also helpful during the search process. Philippe Courtot, chairman of the board, was looking for a board member who truly understood how their product worked. Both Nutanix and Qualys provide cloud-based solutions, so the required technological skills were relatable to both the CIO role and the board member role.
My favorite memory of the search process is sitting at a tiny cafe in Hayward, California, getting a demo of Qualys' product from Philippe and feeling a genuine connection with him as both a maker and a leader. I honestly didn't expect to feel this way about a board director position, but I did, and I still do.
Q: What are you most excited about in your new role?
I'm most excited about the opportunity to apply both my technological background and my financial background as a member of the Qualys board.
In addition to this being my first board role, Philippe has asked me to serve on Qualys' audit committee. At first, I couldn't believe that my contribution, as a technologist, would be that valuable.
But in addition to giving me an opportunity to reconnect with my B.S. in business administration, serving on the committee has given me a view into how the company handles risk—including cyber risk.
Who knew that the indecision and stops and starts at the beginning of my career journey would result in this harmonious outcome 25 years later!
I'm also excited to define this position for myself and make it my own. The exciting thing about being one of the few female CIOs and board members in Silicon Valley is that I get to take advantage of a moment when no one knows exactly what to expect.
Qualys' board is also an exception to the norm: we already have gender parity! Serving on a diverse and inclusive board in my first outing is an incredible opportunity to experience a level playing field from the beginning. I have to say, this is unique in my professional career.
Q: For other technologists seeking board positions at public or private companies, what other advice do you have?
For an experienced CIO, attaining a board of director role is 90% preparation and 10% luck.
Be ready to put yourself out there. Take time to develop and practice your narrative. Articulating your story in a way that's authentic and meaningful is essential to finding the right fit.
Also, be open to everything, and say yes whenever you are asked to explore a potential board role. Entry and exit points to board service are not obvious, nor are they consistent. As my mom used to say, "You have to kiss a lot of frogs before you meet your handsome prince." So, stay in the pond!
Expand your industry network
Networking played a key role in Wendy's rise to becoming a board member. At Sapphire's Board Readiness Workshop, she connected with Qualys' CFO Melissa Fisher, who then introduced her to the chairman of the board later that day. The timing was perfect, Wendy says. While the connection happened quickly, Wendy's acute preparation paid off. She had her bio ready and articulated how she could add value to a board.
Now it's time to showcase your leadership skills. Sapphire Ventures leverages a diverse talent network to share expertise and help our companies scale. The next Board Readiness Workshop will help facilitate introductions to top industry talent.
Disclaimer: Nothing presented within this article is intended to constitute investment advice, and under no circumstances should any information provided herein be used or considered as an offer to sell or a solicitation of an offer to buy an interest in any investment fund managed by Sapphire Ventures. Information provided reflects Sapphire Ventures' views as of a time, whereby such views are subject to change at any point and Sapphire Ventures shall not be obligated to provide notice of any change. Nothing contained in this article may be relied upon as a guarantee or assurance as to the future success of any particular company. Companies mentioned in this article are a representative sample of portfolio companies in which Sapphire Ventures has invested in which the author believes such companies fit the objective criteria stated in commentary, which do not reflect all investments made by Sapphire. A complete alphabetical list of Sapphire's investments made by its direct growth and sports investing strategies is available here.
The content and views contained within this article represent those of the author, which do not necessarily reflect the views of Sapphire Ventures LLC. Such views are subject to change at any point and do not in any way represent official statements by Sapphire Ventures LLC. While the author has used reasonable efforts to obtain information from reliable sources, we make no representations or warranties as to the accuracy, reliability, or completeness of third-party information presented herein, which is subject to change. Past performance is not indicative of future results.