Blog Post
From CXO to Board Director: 3 Lessons to Help You Forge Your Path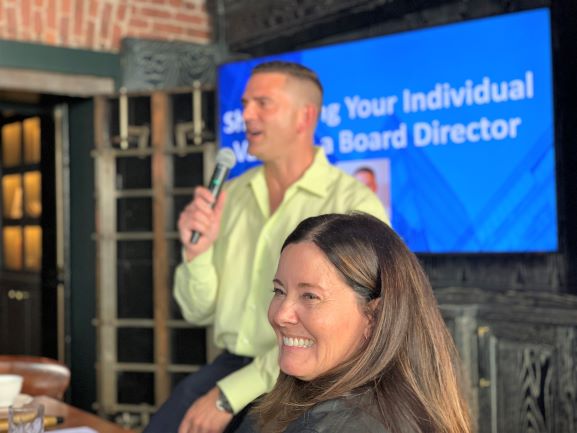 "[A corporate board member] is like a canary in a coal mine, 'with your noses in and hands out'. You must think . . . I'm here to warn, to ask insightful questions, to bring a unique point of view. At the same time, I should be a mentor, a coach, a sounding board, an educator."
— Homa Bahrami, Senior Lecturer & Distinguished Teaching Fellow at
UC Berkeley's Haas School of Business; Board Director, Fabrinet and FEI
In early 2019, Sapphire Ventures hosted its first board-readiness workshop. The event focused on providing women business leaders (from CIOs of large enterprises to CEOs and CXOs at companies and startups) with new skills and networking opportunities to uniquely position themselves for board service.
Core topics included:
Networking with purpose

Telling a unique and valuable story for each board opportunity

Figuring out culture fit for long-term success

Understanding the demands of both public and private company board service and balancing these with current commitments
But we didn't stop there. At Sapphire, we understand that when boards have a better gender balance, they tend to perform better financially. Recent studies further suggest diverse leadership correlates with greater creativity, better decision-making, and higher productivity. Despite the evidence, female representation on U.S. boards stands at just 22%. Among U.S. startups, which many view as progressive organizations, results are still below 40%. We are committed to helping improve these figures.
Building on the success of our first event, in July we hosted a second workshop, From CXO to Board Director — Forging Your Path (Part II). This time we dug into the dynamics of board service, as well as the mechanics of the board recruiting process (from the recruiters' points of view).

Speakers from left to right: Shruti Tournatory, Homa Bahrami, Jai Das, Chris Kelly, Patrick Quinlan
Featured speakers for our second event included:
Below, we've consolidated their insights and provided additional takeaways from the day's discussions. In addition, this article delivers useful data on current board operations; specific steps women can take to make themselves more valuable and visible to board recruiters; and concrete ways to craft and articulate a story that makes you stand out in a crowded field.
1. Boards have changed. Know what to expect today.
According to Homa Bahrami, senior lecturer at UC Berkeley's Haas School of Business and board director at Fabrinet and FEI:
"[Board service] today is about delivering tangible value and demonstrating unique expertise. You must differentiate what you specifically add to a Board."
Today, it's evident that boards place greater emphasis on members' skills and accomplishments. While boards may still have the reputation of being homogeneous, many companies are pushing for diversity throughout the hierarchy. They realize that this can lead to:
the ability to win and retain top talent;

improved employee satisfaction;

better reputation among customers; and

a richer decision-making process.
According to McKinsey, all of this can underpin a "virtuous cycle of increasing returns."
Sapphire Ventures' President and Managing Director Jai Das also shared: "Businesses are more competitive now. Boards must understand that there is more than governance." In particular, the influences of technology increasingly require leaders who are familiar and nimble with new tools and ways of working. These are essential factors for remaining competitive. Growing cybersecurity risks also demand candidates with the expertise to navigate a company through a data breach (if it occurs) and implement systems to preempt these threats, which can derail progress.
As corporate boards become more meritocratic, board service has become more demanding. A typical journey lasts 7-10 years, and there is an increased expectation that you'll be a driver of change (not simply a figurehead). Because of this, it's imperative to find where you truly fit and can add value in the long term. The good news is that opportunities are emerging for leaders with a variety of skill sets.
2. Activate your network.
Board service may be more transparent today; however, the board search process is still largely traditional and network-driven. To secure your seat, you must leverage your connections in the smartest ways possible.
First, ensure that you're connected with directors who are "boarded up," heads of talent at VC firms (for venture-backed, privately held companies), and specialized retained search firms like Russell Reynolds Associates (public boards), DeWinter Group (venture-backed private boards), and Oxeon Partners (healthcare).
In addition, you might consider joining a nonprofit board for greater experience and exposure. While some participants opted to join advisory boards, Jenna Fisher (Managing Director, Global Corporate Officers Practices, Russell Reynolds Associates) advised a level of caution: "If it interests you and excites you, go for it. However, it will not be viewed as a checkbox for a future director role. It's not a stepping stone." While there are many roads that lead to greater visibility, it's important to do your research, ask the right questions, and determine which is the right road for you.
Finally, several speakers emphasized the differences between a board search and the search for an executive or operating role. In both cases, candidates must showcase their background and unique talents; however, since close to 50% of board appointments happen through personal networking, word of mouth, shareholder suggestions, and other informal channels, figuring out how and with whom you connect in this case is critical to success.
3. Tell your authentic, differentiated story.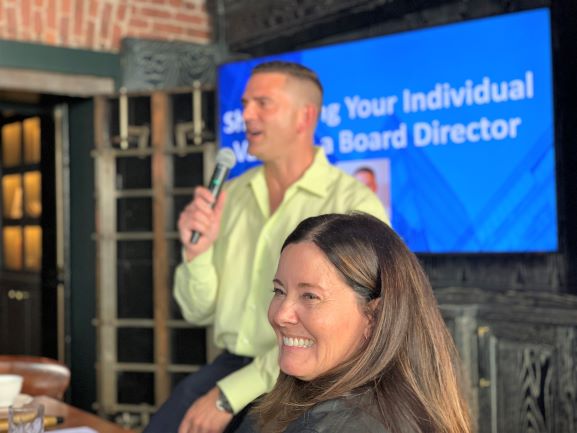 According to cognitive psychologist Jerome Bruner, we are 22x more likely to remember a fact when it is part of a story. For executive coach and multi-time CMO Ben Kiker, this is fundamental to a successful board search. You have to take someone on a journey with you.
He drove home the point that women seeking board positions should wrap key professional and personal facts in larger narratives to help them stick in people's minds. In a competitive field, these details are your aces for standing out from the crowd. Plus, you'll feel grounded in a story that is authentically yours.
To this end, Ben shared three practical tips:
Express your superpower.

Many experienced professionals share valuable skill sets; however, your superpower is a talent that's all your own. Like a thumbprint, this unique capability is part of your personal brand that instantly differentiates you from your peers. Two participants described their superpowers as, "I bring financial liquidity and results to companies," and "I make law relevant when you need to understand it." Once you identify your superpower, lead with it.

Articulate your process.

This is how you bring your superpower to life. Whether it's sharp negotiation tactics, expert team-building capabilities, or a long track record of successful hiring, don't hold back in describing

how

you do what you do. Walking someone through your process helps you connect in a way that's interesting and helpful. It also helps you articulate in an action-focused way how you can help a board close their gaps.

Name your active ingredient.

Think of your active ingredient as your essence or core nature. Each of us has an active ingredient—and it will

not

be the same for everyone. (Ben shared his active ingredient—energy for change—and reminded us that not everyone wants to change!) Landing your first board role is the hardest, but don't settle. If your active ingredient isn't "fitting," don't push. Look for a board where it

will

fit. When you find that one, you (and the entire company) will thrive.
Finally, Ben warned the group to be mindful of our "Insane Thought Generator" — the voice inside each of us saying, "It's never going to happen." This is common, often unspoken, and poisonous. Let go of this weight and you'll fly.
Another of our speakers, Christa Quarles, did just that — and landed board seats at Kimberly-Clark (a $46.5B public company and Affirm ($2.9B private consumer-lending firm).
We're Taking the Show on the Road!
The gender imbalance on corporate boards is a critical issue — and we're just getting started. The interest in and success of our first two board-readiness workshops have catalyzed Sapphire's Portfolio Growth team to host a third event in New York City in Q1 2020. There, we'll deliver new results from a growing conversation and body of research — and offer more participants the chance to connect with and learn from others in the field in an intimate setting. In particular, the event will feature Betsy Atkins, 15x board member, 3x CEO, and successful author. The entire team at Sapphire Ventures is thrilled for what's to come. If you're interested in attending, please fill out this application to be considered for this exclusive event.
Disclaimer: Nothing presented within this article is intended to constitute investment advice, and under no circumstances should any information provided herein be used or considered as an offer to sell or a solicitation of an offer to buy an interest in any investment fund managed by Sapphire Ventures. Information provided reflects Sapphire Ventures' views as of a time, whereby such views are subject to change at any point and Sapphire Ventures shall not be obligated to provide notice of any change. Companies mentioned in this article are a representative sample of portfolio companies in which Sapphire Ventures has invested in which the author believes such companies fit the objective criteria stated in commentary, which do not reflect all investments made by Sapphire. A complete alphabetical list of Sapphire's investments made by its direct growth investing funds is available here. No assumptions should be made that investments listed above were or will be profitable. Due to various risks and uncertainties, actual events, results or the actual experience may differ materially from those reflected or contemplated in these statements. Nothing contained in this article may be relied upon as a guarantee or assurance as to the future success of any particular company. Past performance is not indicative of future results.