Blog Post
Simplifying Transcription and Captioning with AI: Why Sapphire is Thrilled to Once Again Back Verbit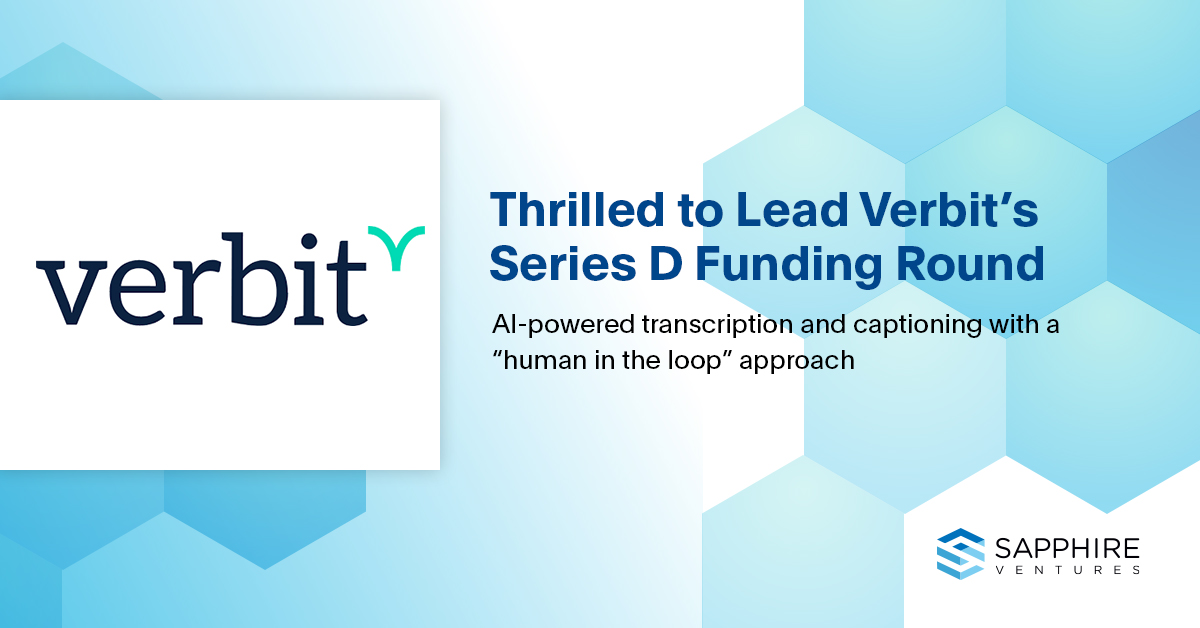 When people think of AI, they often think of far-off, complex and headline grabbing applications. Think driverless vehicles, autonomous drones and intelligent robots – incredible AI use-cases that we will one day in the future see in our daily lives.
Here at Sapphire Ventures, we love this sort of AI, but what excites us most is backing companies that are leveraging AI to help solve real problems today. What we've been known to call "boring AI" is the sort of AI that we gravitate toward. It doesn't seem very exciting at first blush, but we like to partner with companies of consequence that improve business processes and end-user experiences by simplifying existing problems with AI. Simply put, we want to help companies, teams and people develop products that are enhanced with the power of AI right now, rather than waiting for some AI-driven solution to materialize in the future.
The automatic transcription and captioning market is a perfect example of what we're talking about here. Before COVID-19, automatic transcription across all sectors would have been worth more than $30 billion by 2025. That's a pretty large number and it's likely now even greater due to the aftermath of the pandemic. Highly accurate transcription has always been essential for higher education institutions, the legal industry, media and entertainment companies and many other market sectors. But as massive amounts of people began working and learning from home over the past year, accurate transcription became crucial.
The market opportunity, coupled with an incredible team and product, was why we chose to lead Verbit's Series C in November 2020. And today, we're thrilled to double down on Verbit and lead the company's Series D financing.
Verbit is a best-in-class transcription and captioning platform that uses "human in the loop" techniques to make the AI models used for transcription nearly 100% accurate. Most transcription products using only AI models are able to achieve only ~90% accuracy. Since we led Verbit's Series C, Founder & CEO Tom Livne and his team have exceeded our expectations. They not only successfully integrated their acquisition of AST into Verbit's ASR platform, but also have several of the largest legal services vendors OEM'ing Verbit's products. 
We believe that Verbit continues to have a massive market opportunity in front of it. The team's continued ability to move into new market verticals, such as media and entertainment, corporate, government and others, will be critical to their ongoing success. Verbit's demonstrated success in the education and legal markets gives us confidence 
that Verbit will be able to continue to enter new verticals that require much-improved and lower cost transcription services. 
In addition to the market opportunity, the company's talented and driven leadership team has been key to Verbit's growth as it spreads the adoption of ASR technology. The team givesthe company its competitive edge in a highly execution oriented industry. Verbit's Founder and CEO, Tom Livne, is also a lawyer by training and is an exceptional negotiator. These factors give us confidence that Verbit can not only grow organically, but can pull off its roll-up strategy to grow rapidly and efficiently. 
Sapphire Ventures is proud to continue to partner with Verbit in their next phase of growth. "Boring" applications of AI/ML have paradoxically proven to be some of our most exciting investments—including Moveworks, which harnesses conversational AI to streamline IT operations, Clari, which provides a single view and shared set of workflows for a company's go-to-market operations and generates AI powered insights on active and potential deals, and Punchh (recently acquired by PAR), which supports brick-and-mortar retailers with a suite of AI and machine learning-driven marketing and revenue optimization products. We have been evangelists in this space for years, and look forward to helping Verbit on its journey to become a company of consequence.
Disclaimer: Nothing presented within this article is intended to constitute investment advice, and under no circumstances should any information provided herein be used or considered as an offer to sell or a solicitation of an offer to buy an interest in any investment fund managed by Sapphire Ventures, LLC ("Sapphire"). Information provided reflects Sapphires' views as of a time, whereby such views are subject to change at any point and Sapphire shall not be obligated to provide notice of any change. Nothing contained in this article may be relied upon as a guarantee or assurance as to the future success of any particular company. Companies mentioned in this article are a representative sample of portfolio companies in which Sapphire has invested in which the author believes such companies fit the objective criteria stated in commentary, which do not reflect all investments made by Sapphire. A complete alphabetical list of Sapphires' investments made by its direct growth and sports investing strategies is available here. Various content and views contained within this article represent those of third party guests, which do not necessarily reflect the views of Sapphire. Such views are subject to change at any point and do not in any way represent official statements by Sapphire. While the Sapphire has used reasonable efforts to obtain information from reliable sources, we make no representations or warranties as to the accuracy, reliability, or completeness of third-party information presented herein, which is subject to change. Past performance is not indicative of future results.