Blog Post
"Real" AI in Enterprise IT — Why Sapphire Ventures and Moveworks are Excited to Partner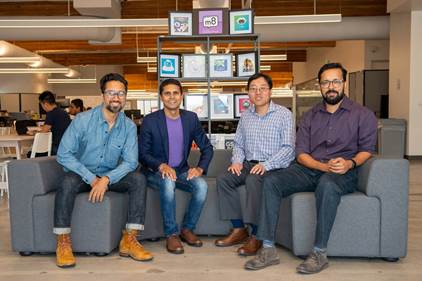 Just about every pitch meeting, presentations include terms like "AI" or "machine learning" or "natural language understanding."  Yes, this is likely driven by VCs' appetite to invest in businesses leveraging these technologies, but in our experience it's rare that companies are actually deploying them. That is why today I am thrilled to announce that Sapphire Ventures is partnering with Moveworks on their $75M Series B. Moveworks and their excellent  co-founding team proved every step of the way they were the real deal, and had actually built and deployed the latest and greatest in natural language understanding and machine learning to elegantly solve business and end-user pain points. More on why we invested:

Why Sapphire Partnered with Moveworks?
Moveworks is led by CEO Bhavin Shah, who inspires confidence with all those around him, and has experience building SaaS companies. More than just Bhavin, the uniqueness of the team is really driven by the individually brilliant, and complementary nature, of the four co-founders of Moveworks – Bhavin Shah, Jiang Chen (VP Machine Learning), Varun Singh (VP Product), and Vaibhav Nivargi (CTO).  Jiang, Varun and Vaibhav have proven technical chops from consumer-grade companies like Google and Facebook, but are also able to understand the business problem they are tackling and articulate why what they have built is necessary and special. Most of all, we enjoyed learning about them on a personal level over dinner and countless other meetings. We prefer to work with great people, in addition to talented professionals.
Moveworks provides automated support for employee questions and requests, beginning with IT tickets. They can fully resolve – truly autonomously – a significant percentage of tickets and consistently show improvement in their resolution rates across their customers over time. Importantly, unlike many other "conversational AI platforms", there is no drag-and-drop toolkit needing weeks or months of implementation to set up every conversational flow possible. Instead, Moveworks leverages actual natural language understanding underpinned by a host of models to provide a truly automated solution. Sapphire has an extensive set of relationships with CIOs and IT leaders that we introduced to Moveworks and we received significant, positive feedback about time-to-value and the ultimate ROI from the solution. We think Moveworks is just scratching the surface in its potential to automate access to information and knowledge through the most natural interface, conversations and chat.
Bhavin Shah, CEO, Moveworks
Why Moveworks Partnered with Sapphire Ventures?
Building Moveworks has been one blessing after the next. Over the past 6 months, dozens and dozens of investors reached out to us curious to learn more and to understand if we were considering a new round of capital. Some heard about us through the Silicon Valley grapevine; others spoke to our customers and were both impressed and intrigued about how we built a true AI solution solving real enterprise problems. But most reached out without having done their homework, and made little effort to understand our business and the nuances that make our approach and technology so powerful. 
Rajeev Dham and the Sapphire team were very different. It was immediately clear to us based on their portfolio and knowledge of AI and enterprise tech that they would be great partners. They researched our market, spoke to key customers, and deeply understood our differentiation. The very first meeting was like speaking to a member of our team. They shared our passion and clearly understood why our product works, and why other solutions have failed in the past.  
The Sapphire team has one of the most impressive CIO networks in Silicon Valley — and they were proactive in making customer intros. They were the only firm that made unsolicited introductions for us to prospective customers — many of which became Moveworks customers in record time — even before we discussed term sheets and fundraising. Their Portfolio Growth Team is one of the most engaged with deep relationships at 1000s of enterprises. Partnering with them was an easy choice.
Thanks, Bhavin, and cheers to the full Moveworks team!  Sapphire is very excited to work with you to build Moveworks into a company of consequence!
Disclaimers:  Nothing presented within this article is intended to constitute investment advice, and under no circumstances should any information provided herein be used or considered as an offer to sell or a solicitation of an offer to buy an interest in any investment fund managed by Sapphire Ventures. Information provided reflects Sapphire Ventures' views as of a time, whereby such views are subject to change at any point and Sapphire Ventures shall not be obligated to provide notice of any change.  Quotes from external parties that are presented within this article are from members of current Sapphire Ventures' portfolio companies.. Statements relate to the nature and type of management services provided to portfolio companies by Sapphire Ventures and do not constitute testimonials to Sapphire Ventures' investment advisory services and no inference to the contrary should be made. Companies mentioned in this article are portfolio companies in which Sapphire Ventures has invested in which the author believes such companies fit the objective criteria stated in commentary, which do not reflect all investments made by Sapphire. A complete alphabetical list of Sapphire's investments made by its growth and sport investment strategies is available here. No assumptions should be made that investments listed above were or will be profitable. Due to various risks and uncertainties, actual events, results or the actual experience may differ materially from those reflected or contemplated in these statements. Nothing contained in this article may be relied upon as a guarantee or assurance as to the future success of any particular company or investment. Past performance is not indicative of future results.