Blog Post
No Going Back Now: 10 Enterprise Tech Trends Taking Shape in 2021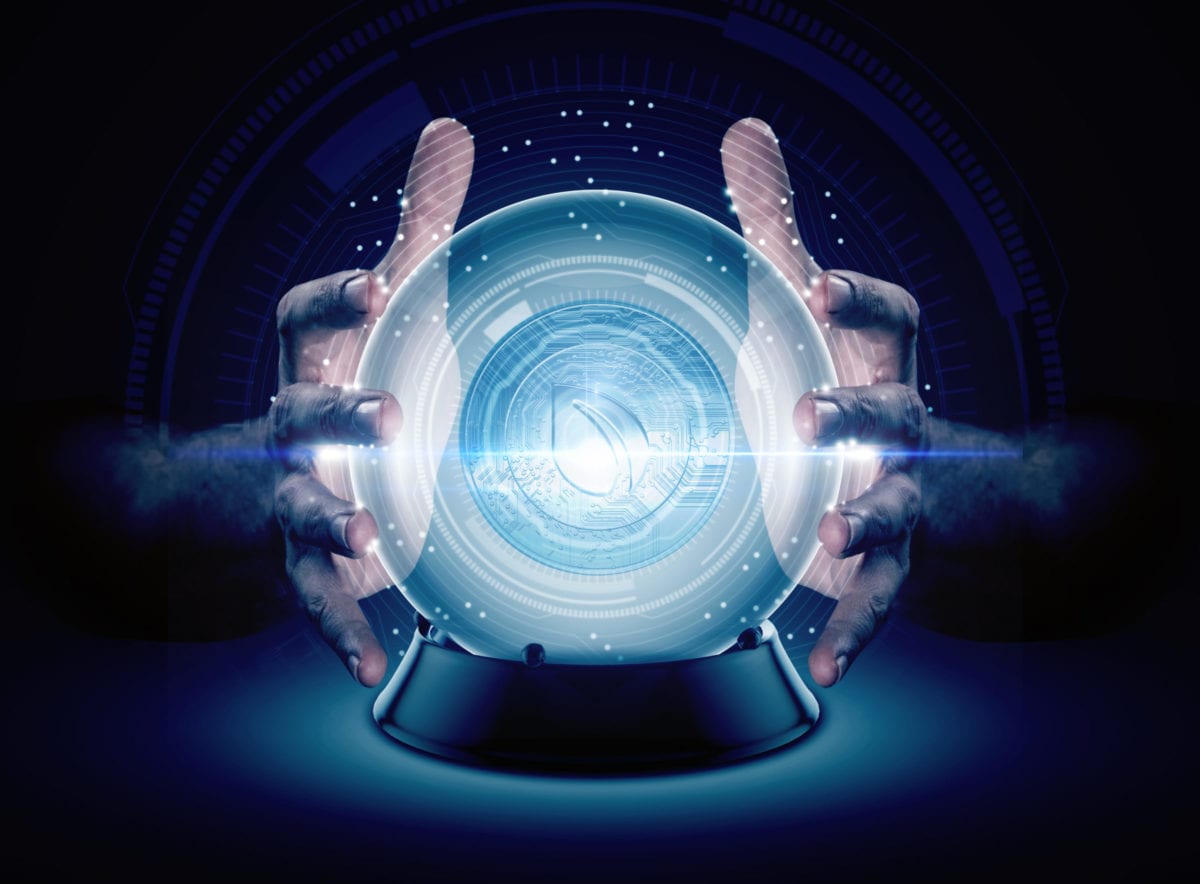 Driven entirely by COVID-19, 2020 was the strangest and most unique year of our lifetimes. By June, 42% of U.S. employees were working remotely full-time, according to Stanford economists. That's almost half of the American population forced to work-from-home. Many companies weren't well-equipped to handle the transition, and for those that were, the demand on remote systems and tools skyrocketed. 
In an effort for companies to enable a fully distributed workforce, deliver better customer service, update cybersecurity protocols and more, almost overnight, companies across all industries accelerated their digitization initiatives. McKinsey estimates that five years of business digital adoption was compressed into a period of eight weeks. 
All of this is to say that COVID has triggered massive trends to take shape in the enterprise technology landscape, and there's no going back. Our needs have permanently shifted. Federal Reserve Chair Jerome Powell recently acknowledged that fact, stating that "we're going back to a different economy" even after the pandemic winds down.
As companies have ramped up digitization, the pandemic caused a lopsided recession. Certain industries like those focused on collaboration, customer service, digital payments and food delivery platforms have boomed. While others have had to completely rethink their business models. As of last month, Shopify's year-to-date return was $194%, Zoom's an impressive 507% and Slack was recently acquired by Salesforce for $27.7 billion.  
At Sapphire Ventures, we like to think that we're clued into top tech trends and startups. And we've spent the past year working alongside dozens of companies that have mobilized to meet the challenge of this pandemic and its outcomes, giving us a close view into promising trends for a post-COVID economy. Here are the 10 trends we believe will make a mark on the enterprise technology space in 2021 and long thereafter.
1. The physical workplace will be reimagined and new ways to measure employee productivity and wellness will emerge
When Slack surveyed 3,000 knowledge workers in the U.S. on their attitudes towards remote work, only 12% said they want to return to the office full-time, and 72% said they want a hybrid office-remote working life. While that means a lot less orientation around the office than before, it's clear that employees still want places where they can get together. They want a home base and the opportunity to meet in person for team events, off-sites, all-hands and so on. And for strategic cases where there are teams that need to work in person, they'll be able to have a place to gather. The net-net is that offices will be more about collaboration and teamwork than working in a silo.
Another workplace trend that's taking off is centered around workplace analytics and happiness. The move towards remote work caused companies to take a closer look at how their employees spend their time, and make sure that they're happy with the work they're doing. Our current investments in ActivTrak, Brightfield and CultureAmp play in these categories. ActivTrak measures how employees are working and where they spend their time. Brightfield helps businesses manage human capital with the power of data analytics. And CultureAmp analyzes employee happiness and morale. Only happy and productive employees build, sell and support great products, which in turn drives customer success and revenue growth.
2. Zoom is becoming a Salesforce-like platform with new startups launching around it 
In the era of the cloud, building services and products on top of big platforms that you don't own is going to be increasingly normalized. We've already seen hundreds of companies sprout up and be incredibly successful by building on the Salesforce platform. For example, fintech firm nCino, which built its bank operating system on Salesforce, went public this year and surged in trading. Similarly, a large number of startups have been created around the Shopify platform like recent Sapphire investment Gorgias, Shogun and Klayvio–to name a few.
In the post-COVID economy, sales and marketing are going to be deeply tied to the virtual word–more so than ever before. Zoom is going to be a platform that continues to benefit from this trend, and its continued adoption means people are going to build companies around it. We are already seeing startups like Restream, another recent Sapphire investment, provide solutions that easily plug into Zoom. With Restream, companies can host webinars on Zoom and with a simple plugin, livestream webinars across a range of social channels simultaneously.  In another example, Verbit, also a Sapphire investment, can be used to easily transcribe Zoom meetings, share the transcription or search through it. 
3. The multi-cloud is here to stay
According to IDC, more than 90% of enterprises will use a mix of dedicated private clouds, public clouds and legacy platforms to manage their infrastructure needs by 2022. While many larger and older organizations continue to use legacy systems for their needs, more and more are moving processes or almost completely to the cloud. In early 2019, Deutsche Bank decided to accelerate its transition to the public cloud by turning to Google Cloud. And earlier this year, Capital One closed its last physical data center, making it the first U.S. bank to operate fully on the public cloud when it transitioned entirely to Amazon Web Services. 
In the next two years, we will see even more companies adopt cloud services, and they'll likely work with many at once for different projects. That's why it's no shock to us that Gartner predicts that public cloud services will earn $304.9 billion in 2021, up 18.4% from $257.5 billion this year.
4. The rise of developer analysts and the death knell of dashboards 
"Data is the new oil? No: Data is the new soil," is how the author David McCandless rightly put it. What this means is that data provides companies with the opportunity to build new products, make better decisions and grow their businesses. But in order to do that, knowledge workers are increasingly learning SQL to access, prep and analyze data. As a result, we're seeing the rise of the developer analyst, which is someone who builds analytical apps that solve a very specific business problem using tools from companies like Fishtown Analytics and Prefect.  
Analysts are tired of having to build analytics dashboards, which knowledge workers use only once or twice before asking for a slightly different dashboard. This trend is driving the need for analytical apps that enable knowledge workers to view and understand complex data on their own. In addition, there is a lot of information stored in existing dashboards. Data storytelling startups like Sapphire portfolio company Narrative Science take dashboards created in Tableau and Qlik and create a narrative describing the data, which is updated as changes in the underlying data occur.
5. Quantum computing is going to boom
We began seeing quantum computing emerge as a trend as early as 18 months ago. Our 2019 CIO Innovation Index report found that CIOs and IT leaders across top organizations were already exploring quantum. The reason for that is simple. Quantum computing accelerates processing. It uses a different kind of physics to speed up and improve encryption, data manipulation, training models and more. Like the semiconductor industry, it can help accelerate AI and machine learning. And it can also open the door for blockchain to make its long-awaited breakthrough, bringing the necessary tools to power ledger technology.
While estimates vary, we know that quantum computing is on pace to become a multi-billion dollar industry, and soon. Quantum computing has been talked about over the last several years as an important area of investment, but its been held back because up until now, its development has mostly taken place in a pre-commercial environment. But recent developments — including Google's quantum computer, which can perform calculations that would take a classical supercomputer hundreds of years and both IonQ and Honeywell announcing quantum machines with record computing powers—suggest a quantum boom is on the horizon.
6. Semiconductors are going to be sexy again, particularly for AI and 5G
You know you are knee-deep in enterprise technology when you refer to semiconductors as sexy, but you heard it here. As startups aim to leverage the power of AI to do everything from improving the IT help desk experience to better tackling sales forecasting, the demand for chips that can meet the needs of new machine learning models will see an uptick. It has been established for some time that traditional CPUs don't do what AI needs, which is how NVIDIA rose to prominence when engineers saw the potential for its GPUs.
Wells Fargo analysts have touted the AI chip market as on track to grow to $34 billion by 2023. Meanwhile, a McKinsey study found that semiconductor companies could capture up to 50% of total value from the technology stack as a result of AI. In many ways, the semiconductor industry has the opportunity to massively support and accelerate AI capabilities and innovation.
Semiconductors will also be huge for the move towards 5G, which is still in its early days, but is going to be revolutionary for what our computers and phones will be able to do. Data shows that 320 million 5G subscribers are forecasted in the U.S. by the end of 2025. In order to get 5G into the hands of all of these consumers, semiconductors will be essential in improving cellular networks as we know them. With the power of 5G, consumers will be able to access the internet at extraordinary speeds, which will help create a more connected world, improve video on-the-go quality and usher in the next generation technologies like virtual reality.
7. A new breed of entertainment will be driven by the creator economy
First YouTube and now TikTok. Both have shown that we like to be entertained by short-form videos created by everyday folks. These examples just scratch the surface of what's taking shape in the year ahead and beyond. We like to watch gamers play each other on Twitch, NBA stars try to copy the cool tricks that high-school basketball players are showcasing on Overtime (a Sapphire Sport investment), and all of our journalism needs are met by the articles on Substack and Medium. 
With COVID-19 disrupting traditional television and cinema entertainment production and distribution, the time is ripe for content creators to deliver a new type of entertainment that's much more personalized to the consumer. The following Forbes article explores the creator economy at length, noting that there are currently about 50 million global creators with more on the rise. Believe it or not, ask a kid today in the U.S. what they want to be when they grow up and they'll say it's a YouTuber—an answer 3x more popular than an astronaut!
8. Open source will keep driving the growing need for APIs
Most people don't consider that when you turn on a new Netflix show that your viewing experience is run on Linux. All people care about is watching the shows they love, but on the backend, Netflix uses Amazon Web Services with servers that run on the open source OS. From this perspective, there are hundreds of companies just like Netflix. 
Open source has enabled a tremendous amount of innovation, which is why it has become so popular. Over the last few years, big companies have been built on open source platforms. Some have been acquired, like Red Hat, which IBM bought for $34 billion or GitHub, which Microsoft bought for $7.5 billion. And in recent months, Sapphire's investment in open source company JFrog went public.
What's clear is the open source ecosystem isn't going away. Just ask the people who build the technologies we use and love. A survey of 65,000 developers by Stack Overflow showed they prefer to work on open source. However, developers are lazy, they don't want to download and actually run open source software. Companies that monetize open source projects understand this, so they provide a cloud-based service for developers to access and use through APIs in the software application they're building. The acceleration in revenues for companies like MongoDB, Elastic, Confluent and so on happened only after they set up a cloud-based service that developers were able to access via APIs. The API economy is also driving a consumption-based pricing model where companies pay for a service only as much as they use it–another big trend that's taking shape.
9. Corporate security will test WFH boundaries
A new trend that will present both tech and ethical challenges for companies is what it means to work and live in the same place: the home. There will be questions as to how far companies should go down into an employee's home to ensure that the network, wifi and even the programs they're running are safe and secure.
Companies will also have to accommodate changing legal environments. This year in California, a new consumer privacy act to protect citizen data took effect and Europe is now in the full swing of GDPR.
10. AI and machine learning will revolutionize drug discovery
AI and machine-learning software will transform the way drugs are discovered, manufactured and tested. We all know the success story of Moderna, which we had the honor of hosting this past fall during our annual CIO Summit. The biotech company was able to create a vaccine over a weekend in early January as soon COVID-19's genetic makeup was made public. This was possible because of the clever mix of wet labs technology with dry labs techniques–all of which were tied together with AI and machine learning based software. 
Moderna is far from the only healthcare company adopting this approach. Companies like Recursion Pharmaceuticals, TwoXar, Verge Genomics and others are completely changing the way that drugs are discovered. As we head into 2021, the drug manufacturing process will also be re-defined and re-architected by companies like Resilience. And finally, AI and machine learning software will also shorten the time it takes to test and validate the efficacy of various drugs.
Disclaimer: Nothing presented within this article is intended to constitute investment advice, and under no circumstances should any information provided herein be used or considered as an offer to sell or a solicitation of an offer to buy an interest in any investment fund managed by Sapphire Ventures ("Sapphire"). Information provided reflects Sapphires' views as of a time, whereby such views are subject to change at any point and Sapphire shall not be obligated to provide notice of any change. Companies mentioned in this article are a representative sample of portfolio companies in which Sapphire has invested in which the author believes such companies fit the objective criteria stated in commentary, which do not reflect all investments made by Sapphire. A complete alphabetical list of Sapphire's investments made by its direct growth and sports investing strategies is available here. No assumptions should be made that investments listed above were or will be profitable. While Sapphire has used reasonable efforts to obtain information from reliable sources, we make no representations or warranties as to the accuracy, reliability, or completeness of third-party information presented within this article. Due to various risks and uncertainties, actual events, results or the actual experience may differ materially from those reflected or contemplated in these statements. Nothing contained in this article may be relied upon as a guarantee or assurance as to the future success of any particular company. Past performance is not indicative of future results.