Blog Post
Pioneering a Better Way to Work: Why Sapphire Ventures is Excited to Partner with ActivTrak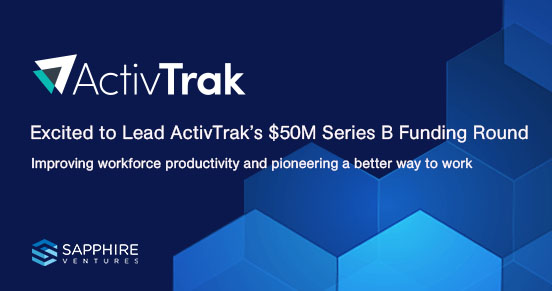 We're thrilled to share that Sapphire Ventures is leading ActivTrak's $50M Series B funding round. Launched as a SaaS application in 2012, ActivTrak is a leader in workforce productivity and analytics software, which is an area of increased importance for companies today. While it has always been a priority for companies to understand and improve how their employees work, it's especially important in the current remote work environment and will continue to be in a post-COVID world. 
ActivTrak is pioneering a better way for teams to work together, and we couldn't be more excited about it. Here's why we chose to partner: 
Leading in a fast-growing, increasingly valuable market
There are a few reasons why we believe ActivTrak is in the right place at the right time. First, existing workplace management tools have typically focused on monitoring employee productivity and identifying illicit behavior. ActivTrak's platform goes beyond these basic capabilities by helping companies identify popular apps and get rid of unused ones, ensuring employees have the tools they need and reducing unnecessary costs. ActivTrak also helps detect patterns in behavior, benchmark across peers and industries, coach employees and improve overall team effectiveness. Very large companies have the tools and resources to address some of these pain points, but until recently smaller and mid-size companies have been left flying blind.
Second, the pandemic has forced businesses to reimagine where and how their employees work. Some companies have shifted to a fully remote workforce, while others are expected to have flexible work-from-home policies in the future. While many employees have returned back to work over the last couple of months, a third of U.S. employees are still working from home, with another 25% working remote part-time. With so many employees working in a hybrid or distributed environment for the long term, it's our belief that companies will invest in the necessary technologies to better understand how their workforce is working, and ensure employees have access to the tools to get their jobs done. 
And third, the timing couldn't be better for a company like ActivTrak to scale. Looking at the data, the global user activity monitoring market is estimated to be $1.3 billion in 2020. And the industry is projected to expand in the next seven years with an average CAGR of 22.5% that will see the market reach $5.4 billion by 2027. 
Giving companies the tools they need to improve their teams
ActivTrak's cloud-based platform allows teams to understand how people work based on user activity data that's collected and analyzed from the websites and applications employees regularly use. The data is populated into a real-time dashboard, which companies and their different teams can integrate with additional tools such as business intelligence (BI) solutions. 
With ActivTrak, teams can observe workforce behavior, learn behavioral patterns, glean insights around performance correlation and see which apps and tools are used the most in the workplace. Employers can use this information to optimize specific workflows and workforces by coaching employees to perform more effectively. ActivTrak encrypts all data and stores the information using the Google Cloud Platform (GCP), which also allows companies to leverage GCP's capabilities for analytics, AI and security.
ActivTrak's key features include:
Dashboard

: Quick visual summaries of key user activities with drill down for further details.

Activity Reports

: Reports that locate unbalanced work time patterns, measure employee productivity, identify top performers, and understand application and website usage patterns.

Team Productivity Pulse

: Live dashboard with snapshots of team member productivity data, employee availability status such as active, passive or offline, applications being worked on, and the number of hours worked and most often used work application for each employee.

Activity Alarms

: Pre-built or customized alarms used to set boundaries or restrictions on social media site usage, monitor USB device activity to protect copying of sensitive data and establish user risk scores with severity levels to understand activities out of compliance.

Activity & Productivity Classification

: Library of applications and websites employers use to understand how employees work. ActivTrak automatically classifies productivity and categories of common applications and websites, but it can be customized for an organization or team's unique needs.

Data Connect:

Analytics feature that provides customers with direct access to key user behavioral activity data to query against and integrate with external BI data visualization tools like Tableau, Microsoft Power BI, Google Data Studio and other business data sources.

Website Blocking:

Prevents visits to websites to ensure productivity and security.
This is just the beginning for ActivTrak. The company's 2021 roadmap includes benchmarks of baseline behaviors for users to improve on, as well as access to a personal productivity dashboard so employees can receive insights into their own work habits in real-time. ActivTrak is also boosting integrations to commonly used tools, having recently added Microsoft Teams so that insights can be delivered to users within their existing workflows.
Experienced leadership and expertise puts ActivTrak ahead of the curve
ActivTrak was founded eight years ago with the mission of helping companies understand how their teams perform. Since then, the Austin-based company has brought on new CEO Rita Selvaggi, CRO Justin Endres, CMO Shanel Vandergriff, Head of Operations Heidi Farris, VP Products Javier Aldrete and SVP Engineering Matt Finlayson among others, and has grown to be recognized by SXSW as a leading innovator and by PCMag as the best monitoring software for productivity tracking.
Prior to ActivTrak, Rita, Justin and Shanel held senior roles at AlienVault, the cybersecurity firm that was acquired by AT&T in 2018. Before that, the trio also worked together at SolarWinds leading up to the company's IPO in 2009. We were drawn to the team given their proven track record of building great technology products and profound operational experience with high-velocity mid-market sales models. Their first decade of working together was an incredible success, and we expect the coming years to be no different. 
We also connected with Rita and the team on a personal level. They are down to earth, yet incredibly driven individuals. And both Nino and Rita share a Croatian and Italian background. Nino is Crotian and spent several years living in Italy, and Rita is of Croatian and Italian heritage.
ActivTrak's best-in-class platform, paired with a management team with a sterling track record, has us looking forward to a bright future and the opportunity to build a company of consequence. 
Disclaimer: Nothing presented within this article is intended to constitute investment advice, and under no circumstances should any information provided herein be used or considered as an offer to sell or a solicitation of an offer to buy an interest in any investment fund managed by Sapphire Ventures ("Sapphire"). Information provided reflects Sapphires' views as of a time, whereby such views are subject to change at any point and Sapphire shall not be obligated to provide notice of any change.Companies mentioned in this article are a representative sample of portfolio companies in which Sapphire has invested in which the author believes such companies fit the objective criteria stated in commentary, which do not reflect all investments made by Sapphire. A complete alphabetical list of Sapphire's investments made by its direct growth and sports investing strategies is available here. No assumptions should be made that investments listed above were or will be profitable. Due to various risks and uncertainties, actual events, results or the actual experience may differ materially from those reflected or contemplated in these statements. Nothing contained in this article may be relied upon as a guarantee or assurance as to the future success of any particular company. Past performance is not indicative of future results.