Blog Post
Revolutionizing Customer Service for e-Commerce: Our Investment in Gorgias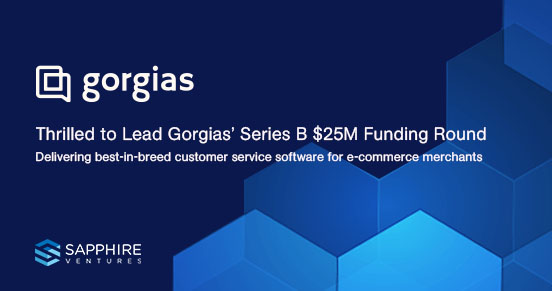 When it comes to customer service, it's three strikes and you're out. More than half of today's consumers switch to another company after just a few bad experiences, losing companies $75 billion annually. With so much at stake, it's critical for online merchants to get customer service right. 
That's why we're excited to lead Gorgias' $25 million Series B. Gorgias delivers best-in-breed customer service software for e-commerce merchants, serving 4,500 online stores across Shopify, Magento and BigCommerce. By unifying customer conversations across email, messaging, social and other channels, Gorgias builds a 360-degree view of the consumer, enabling merchants to easily deliver exceptional service.
It's an incredible time to be in e-commerce and we are thrilled to partner with Founder and CEO, Romain Lapeyre, and the entire Gorgias team as they shape the future of service for online merchants. 
The Explosion of the e-Commerce Ecosystem 
In 2019, consumers spent $602 billion with U.S. e-commerce merchants, representing 16% of retail sales. When COVID-19 halted in-store shopping, online sales exploded. In the second quarter of 2020, $1 in every $5 in the U.S. was spent online—the highest e-commerce penetration ever. A widespread transition to e-commerce that would have taken years happened in just months, creating a tremendous opportunity for e-commerce merchants.
When Shopify went public in 2015, there were 162,000 merchants on its platform. Today, Shopify has over one million merchants, and there are another 250,000 and 90,000 merchants on Magento and BigCommerce, respectively. The explosive growth of independent online merchants first gave rise to the big platforms. Now, we're seeing an entire ecosystem of enablement players being built for e-commerce. 
At Sapphire, we've been following the growth of e-commerce for more than a decade, and we've seen a number of leading players emerging in their categories. One or our investments, Attentive, a mobile messaging platform is making it easier for brands to engage with consumers on-the-go. Klaviyo is transforming the email marketing space, ReCharge is taking a new approach to subscriptions and payments, Shogun leverages no-code to help brands easily build websites, Bolt and Fast enable instant checkout, Loop instantaneously handles returns and of course, Gorgias, is revolutionizing customer service with an easy-to-use, lightning-fast, and customer-centric platform. 
We also believe the best direct-to-consumer (DTC) merchants differentiate by delivering exceptional customer experience. DTC brands care deeply about building customer trust and gaining customer love and slow, non-contextualized responses to customer inquiries just won't cut it. To stand out from the pack, the most successful e-commerce brands must develop a holistic view of their customers and provide rapid, personalized support on all channels their customers engage with. And this is exactly what Gorgias delivers to their fast-growing D2C merchants. 
Gorgias: A Category Leader Purpose-Built for e-Commerce 
While customer support isn't a new software category, traditional ticketing platforms like Zendesk break-down when high volume requests flow in from multiple channels. Traditional platforms are based on a limiting ticket-based framework that is unable to capture key customer contextualization like past purchases and returns. And for small and medium sized merchants that may be graduating from an inbox to service software for the first time, a solution like Zendesk is often too complex and expensive. 
With Gorgias, e-commerce merchants receive a dedicated solution with key integrations out-of-the-box. Gorgias allows service agents to respond to high e-commerce ticket volumes across multiple channels at lightning fast speeds, and importantly, unifies customer conversations and activity in one central platform. Taking a page from CRM providers, Gorgias is reinventing what modern customer service for e-commerce looks like.
An Ambitious, Experienced and Global Team Ready to Scale
I first met Romain roughly two years ago for lunch in San Francisco. His hunger and passion for re-inventing the customer support space by making service agents more productive thereby allowing merchants to differentiate on customer experience was palpable. Shortly after, I went on a walk with Alex Plugaru, Gorgias' CTO and co-founder. His drive and focus was eerily reminiscent of my conversations with Romain. It was clear to me why they've been such a great duo.  
Today's consumers expect better, more personalized experiences with the brands they interact with. We are thrilled to partner with Gorgias as they deliver exceptional customer service for e-commerce merchants and help shape the future of customer support.
Disclaimer: Nothing presented within this article is intended to constitute investment advice, and under no circumstances should any information provided herein be used or considered as an offer to sell or a solicitation of an offer to buy an interest in any investment fund managed by Sapphire Ventures ("Sapphire"). Information provided reflects Sapphires' views as of a time, whereby such views are subject to change at any point and Sapphire shall not be obligated to provide notice of any change. Companies mentioned in this article are a representative sample of portfolio companies in which Sapphire has invested in which the author believes such companies fit the objective criteria stated in commentary, which do not reflect all investments made by Sapphire. A complete alphabetical list of Sapphire's investments made by its direct growth and sports investing strategies is available here. No assumptions should be made that investments listed above were or will be profitable. Due to various risks and uncertainties, actual events, results or the actual experience may differ materially from those reflected or contemplated in these statements. Nothing contained in this article may be relied upon as a guarantee or assurance as to the future success of any particular company. Past performance is not indicative of future results.