Blog Post
Solving Marketing's Top Challenge: Why Adverity and Sapphire Ventures Chose to Partner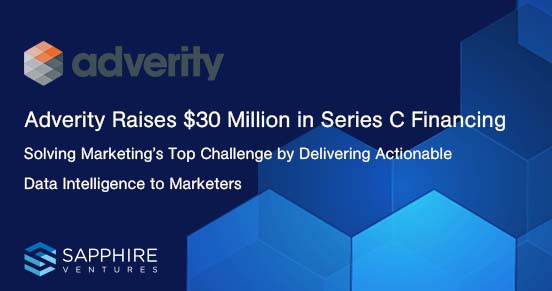 These continue to be uneasy times for many around the world, but today, we're excited to announce that we're leading Series C financing in Adverity, a marketing technology company founded by Alexander Igelsböck in 2015 that's dedicated to delivering data intelligence to marketers. Adverity has raised $30 million in Series C financing, bringing the total amount raised by the company to $50 million.
With nearly 7,000 marketing technology solutions available, marketers are using many different products to achieve their goals. As a result, they're unable to get a unified view of their marketing performance and investments. And they're having a difficult time reporting on their campaigns and outcomes. Ultimately, marketers are spending more time and resources than necessary because they're manually stitching together data from disparate systems to develop reports.
We believe Adverity solves this massive marketing problem by providing companies with a business intelligence and analytics solution specifically designed for marketers. Adverity has a deep understanding of hundreds of marketing applications including advertising, social media, CRM, analytics apps and more. Its platform has made it simple for marketers to integrate any data source and deliver a single view of marketing performance, enabling them to continuously assess and optimize investments.
We've been making investments in marketing technology solutions such as ExactTarget, Marin Software, Krux and Segment since Sapphire started, so we believe that we know the industry well. Most recently, we've been interested in companies that are able to answer some of the most foundational marketing questions: "How can we see all of our marketing activity in one place and understand where to make the right investments?" 
Adverity, which works with companies such as IKEA, Red Bull, Mediacom, Mindshare and IPG, helps marketers address these challenges. The platform is able to import data from any source, automatically process and clean it with the power of artificial intelligence, and then visualize it so that it's easy for anybody to understand and take action on.
We're also big fans of the three charismatic founders of Adverity: Alexander Igelsböck, Martin Brunthaler and Andreas Glänzer. Prior to starting Adverity, Alexander led a startup incubator in Austria (KochAbo GmbH) and before that, served as a product management leader at VeriSign Inc. where he met Brunthaler who was on the engineering team. Andreas grew his career in sales, having spent several years at Google and iProspect. 
Why Adverity Chose Sapphire Ventures
For Adverity, we were the right partner because as CEO Alexander Igelsböck puts it, "With their global network of experience and expertise, partnering with Sapphire Ventures will continue to accelerate us in this period of sustained growth, helping us to realize our global ambitions."
Adverity was started to help marketers see true value from the vast amounts of data bound up in the hundreds of spreadsheets and reports that they try to make sense of on a daily basis. "We started Adverity to create 'a single source of truth' across departments so that all teams could work from the same data set rather than in isolation," says Alexander Igelsböck. "By creating a 'single source of truth' with our platform, customers have been able to see the tangible business impact of marketing activities while improving performance."
"The investment from Sapphire Ventures will allow Adverity to continue to evolve and develop new tools to address the challenges of marketing data complexity. It also means we can expand our technology and commercial teams in the pursuit of this, which is something we're very excited about," says Alexander Igelsböck.
We recognize there are unsettling times, but Adverity is hiring. If you're looking for a new job, check out their Careers page: https://www.adverity.com/careers/
Disclaimer: Nothing presented within this article is intended to constitute investment advice, and under no circumstances should any information provided herein be used or considered as an offer to sell or a solicitation of an offer to buy an interest in any investment fund managed by Sapphire Ventures. Information provided reflects Sapphire Ventures' views as of a time, whereby such views are subject to change at any point and Sapphire Ventures shall not be obligated to provide notice of any change.Companies mentioned in this article are a representative sample of portfolio companies in which Sapphire Ventures has invested in which the author believes such companies fit the objective criteria stated in commentary, which do not reflect all investments made by Sapphire. A complete alphabetical list of Sapphire's investments made by its direct growth and sports investing strategies is available here. No assumptions should be made that investments listed above were or will be profitable. Due to various risks and uncertainties, actual events, results or the actual experience may differ materially from those reflected or contemplated in these statements. Nothing contained in this article may be relied upon as a guarantee or assurance as to the future success of any particular company. Past performance is not indicative of future results.