Blog Post
Sapphire & ThoughtSpot: Partners in Democratizing Data for Everyone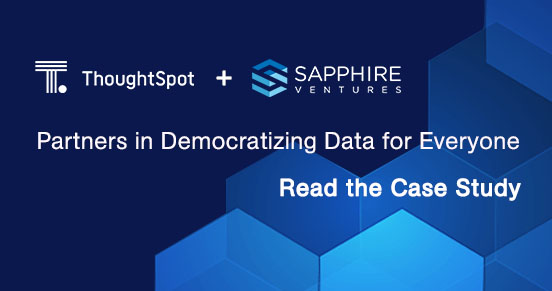 When ThoughtSpot first launched in 2012, the analytics market was by no means nascent. And since then, it has only continued to grow. IDC reported that worldwide revenues for big data and business analytics solutions were forecasted to reach $189.1 billion in 2019, with double digit growth expected in the coming years. But the last big company to arrive on the scene was Tableau in 2001, which was acquired by Salesforce in 2019 for $16 billion.
At the time, there was no BI or analytics platform on the market that could easily empower billions of knowledge workers to find their own data-driven insights whenever and wherever they made decisions. Existing products were too complicated for frontline workers who often don't have a data background or programming experience to operate analytics tools, but need to access and act on data fast.
Now a few years later, ThoughtSpot has helped transform how anyone across any company can access data. ThoughtSpot pairs search with AI to make it easy for anyone to uncover their own insights and build interactive data stories. The platform is designed to deliver a lightning-fast, consumer-grade experience across billions of rows of data. Think Google, but for numbers.
We've always believed that what ThoughtSpot was building is revolutionary, so in 2018, we invested in ThoughtSpot's Series D funding round. In 2019, we reaffirmed our commitment to the company by participating in ThoughtSpot's Series E. Over the last few years, we're had the privilege of partnering with CEO Sudheesh Nair and his team many times over. From helping to recruit key roles, to facilitating valuable business introductions and advocating for ThoughtSpot through our marketing and communications efforts, we're excited to be on this journey together. So much so that we've pulled together a case study to capture our story to-date.
Disclaimer: Nothing presented within this article is intended to constitute investment advice, and under no circumstances should any information provided herein be used or considered as an offer to sell or a solicitation of an offer to buy an interest in any investment fund managed by Sapphire Ventures, LLC ("Sapphire"). Information provided reflects Sapphires' views as of a time, whereby such views are subject to change at any point and Sapphire shall not be obligated to provide notice of any change. Nothing contained in this article may be relied upon as a guarantee or assurance as to the future success of any particular company. Companies mentioned in this article are a representative sample of portfolio companies in which Sapphire has invested in which the author believes such companies fit the objective criteria stated in commentary, which do not reflect all investments made by Sapphire. A complete alphabetical list of Sapphires' investments made by its direct growth and sports investing strategies is available here. Various content and views contained within this article represent those of third party guests, which do not necessarily reflect the views of Sapphire. Such views are subject to change at any point and do not in any way represent official statements by Sapphire. Various statements made by third party guests about Sapphire relate to the nature and type of management services provided by Sapphire and do not constitute testimonials to Sapphires' investment advisory services and no inference to the contrary should be made. Sapphire does not solicit or make its services available to the public and none of the funds are currently open to new investors. While the Sapphire has used reasonable efforts to obtain information from reliable sources, we make no representations or warranties as to the accuracy, reliability, or completeness of third-party information presented herein, which is subject to change. Past performance is not indicative of future results.