Blog Post
From CXO to Board Director: A Discussion with Julie Cullivan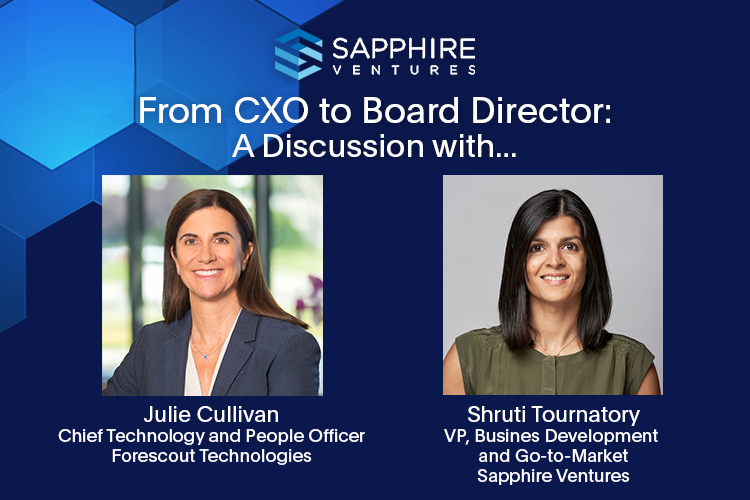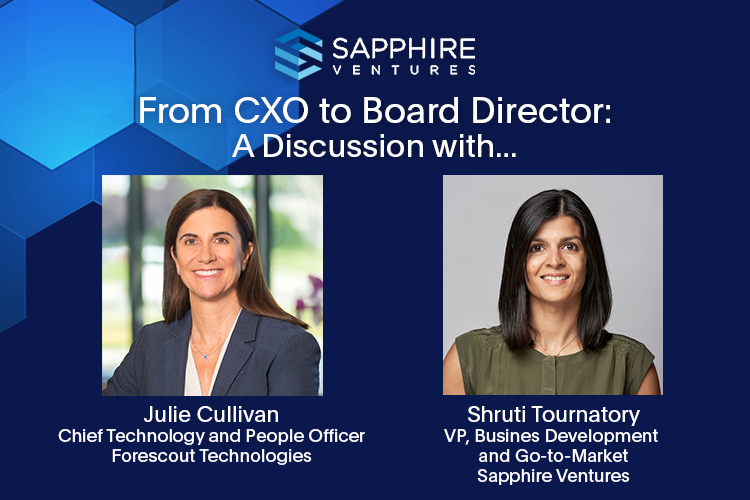 Shruti Tournatory interviews Julie Cullivan about the journey she took to her first board of directors role, the interview process, the difference between a board director and board observer role and more.  Listen to the full podcast.
The transcript of the conversation below has been lightly edited for clarity and length.
Shruti Tournatory  
Hello, everyone, I'm Shruti Tournatory, Vice President of Business Development at Sapphire ventures. And I am joined today by Julie Cullivan, Chief Technology Officer at ForeScout, a public cybersecurity company leading in the device visibility and control spaces. 
Julie and I will be having a conversation today about: 
how to find and select board roles

how to interview for them, and 

some of the unique rewards and challenges of serving as a director
This is of course, the virtual version of Sapphire Ventures' Board Readiness Workshop series that we as a firm kicked off in 2019 with a goal of convening a community of women executives and CXOs who are seeking board roles and bringing them together with seasoned female board directors that have already walked that path. 
Julie, welcome!  My first question to you, Julie, is you're obviously a seasoned executive, having served in a series of executive roles at a host of large tech companies. You joined your first board-director position with Axon which is a law enforcement tech company in 2017. And then, later in 2018, you took on a second role as a board observer with Cobalt.io a VC background start up, and also a company you had been advising in the past before taking on the board observer role. What motivated you at that point in your career to pursue new board positions?
Julie Cullivan  2:13
Well, it's interesting. I think what happened is I had stepped into the CIO role at Fireeye. and realized during that transition that I needed to build a network of strong technologists, but was able to actually build a network of really strong women in technology. During some of those engagements and networking events, I connected with Coco Brown, who was starting to think about, "hey, we need more diversity on boards." 
Every strong woman executive I talked to was thinking about board work, how do I help facilitate, make that happen for more women?  So that was my sort of initial thinking that maybe this is a path I want to take, and I always thought it would be something that I wasn't quite ready for yet. But you know, hey, it's something to be thinking about. 
And honestly, through engagement with some of these amazing women that ultimately ended up building out Athena Alliance, I started to realize that, you know, there's no time like the present to get started on trying to make it happen. Because you really never know how long it's gonna take.
Shruti Tournatory 3:20  
Can you talk a little bit about how you found each of these board roles, so your board director role with Axon and then also talk about the board observer role and the engagement you had with Cobalt.io because VC backed startups can sometimes have slightly different sort of selection processes. How does that discovery process like?
Julie Cullivan  4:06  
I started advising with Cobalt.io when it was just an incubator through the Stanford accelerator, and they had a program where they would match operational executives with incubator companies to try to help them coach them along their journey. And so I got involved with them, I think it was actually in 2013-14 so I've been working with them for a long time. 
Eventually, as they were starting to grow and scale, they started to look at independent board members, but also started to look at what kind of operational experience would we like to have be more engaged at the board level? I don't have an official board position, I get to sit in on board meetings and help where I can, but I'm not an actual independent board member.  There's just a variety of things that I think I can offer operationally, you know, sort of guidance and experience for them, that you don't necessarily always get with an investor that's sitting on a seat. 
Now as far as Axon, that definitely came my way through being, an active and engaged member of the Athena Alliance. Axon technologies' CEO Rick Smith is a real forward-thinker, real visionary. He was very interested in more board diversity. And so he connected with Athena Alliance and very proactively said, "Hey, I'm looking to fill out an independent board seat with more diverse candidates, but I'm not sure how to go find them."
He was able to partner with Athena to come up with a long healthy list of really amazing women that could come in and help them and, as that process pushed forward, I continued to sort of stay on the shortlist and ultimately ended up being a great match on both sides in terms of: I felt like I could close some gaps that they were looking to fill on their board makeup and they were willing to take a chance on a first time board member.
It was really a long path. It takes much longer than I think anybody realizes to earn a board seat.  It's not as structured as when one goes in interviews for an actual, operational, hands-on role.  It can take a lot of sort of quiet times and other things happen in the bigger world that slow things down. But ultimately, after about, a good nine months of engagement, they were ready to make a an offer and things proceeded from there.
Shruti Tournatory  7:00  
In terms of the actual composition of the interview process, was it sort of a process where you had to meet with all of the board members?  All of the executive leadership team? 
Julie Cullivan  7:30  
I think I heard it really well said a couple weeks ago. I was at an event and somebody was talking about board work. And they said, "if you've been on one board, you've been on one board, because every board is different in terms of how they might go through the non gov process" or who do they engage in the board search, etc. 
In my particular case, it started with the CEO. Once the initial engagement and conversation was "Hey, this is somebody that I would like to have, you know, continue through the process," I spent time with the non gov chair, spent time with the chairman of the board, spent time with three independent board members.  They were all very interested and engaged in the process and wanting to bring people in the people wanted to interview and make sure that I would be a good fit. 
And also, I will say that in this particular case, they've got several board members that have been engaged with the company for many, many years — there are many ups and downs. And they feel like their board service on this company — it's a company on a mission — the board members are very married to that mission and they wanted to make sure whoever they brought in understood that this was not just "show up" every quarter to a board meeting.  They expected a level of engagement and that everybody on the board be contributing at the same level. 
Shruti Tournatory  9:12  
What is a competency, or a couple of competencies, that you feel really differentiates the skill set that is expected of a board director versus an operational leader?  Often in conversations about how executive leaders that are operational leaders how they can make it to board roles and thrive there. 
I've often heard the distinction been made between having a certain governance skill set as a board director, which is different from being an operations leader, leading sales or technology or whatever the function might be.  What is a competency or maybe a couple of competencies that a board director is expected to have that maybe isn't necessarily expected of an operational leader?
Julie Cullivan 9:52  
I think that a lot of it is having a sort of a consultative approach, right to how you engage with the executive team.  Because you're no longer saying, yes, you can do that. No, you can't do that. It's trying to sort of influence, and understand, and question, and pull the thread to make sure that your experiences can help benefit them as they move forward on whatever that strategy might be. 
Second, more of it is being able to engage in a way and influence based on the experiences that you have, but also understanding that in the end, they have to go execute and make these things happen. And so I think that's been some of what I have learned. I mean, I've tried, as my career has grown, to take a more consultative approach than, like, "I know the answer, and this is what we should do." And so I think it's making sure that you're able to engage in that level without making people feel like "Oh, I know, because I've done this before. I know all the answers."  It's letting people kind of get to those answers in their own way sometimes.
Shruti Tournatory  11:08  
Switching gears a little bit. You are in a small but growing rank of enterprise CIOs and technologists, who are finding their way into the boardroom. It's an interesting dichotomy in the sense that, on the one hand, every company, regardless of industry today, talks about how they want to become a technology company and how they want to leverage the power of technology. On the other hand, there's been some analysis around the lack of pure technologists at a lot of company boards. I mean, certainly some companies are stepping up to get more technologists on boards. I think there was a study by Deloitte recently that showed that less than 10% of companies in the S&P 500 have pure technologists on their board today. 
So thinking about your background as a CIO as a chief technology officer now, in what ways, if any, was being a CIO, an advantage to you, or something that you leveraged or highlighted in the board search process? And during actual board service?
Julie Cullivan  12:20  
Yeah. So, you know, certainly when Axon was embarking on their looking to bring in some diversity, they were also looking to fill other areas where they might not have had as much sort of experience or expertise. And they were certainly looking for somebody that had a strong security and technology digital-transformation background because that is something that they were going through at the same time, and as they were doing a lot of this technology transformation. You know, they wanted to make sure that we're thinking about it from a security data privacy, etc. 
There are definitely a set of skills that I had some strong experience in, particularly in the scale area around that all.  So we're a nice fit along with a diversity angle. 
And I know that as people are looking at board service, they get a lot of different advice from "Hey, you need to be very, you know, laser focused on what your superpower is", versus "Oh, I've done a bunch of different things," and making sure that you can really kind of articulate where you can most bring value. But what's interesting is I was very focused on trying to make sure that they understood what I could bring to the table from a security and technology perspective. And they actually were like, that's awesome. But the fact that we see you've got channel, go-to-market, sales strategy, scale, all these other things that you've done as well made it that much broader of a set of things that I could potentially provide help from them on. 
Additionally, there's that voice of the customer angle as well. So even though I may not be a law-enforcement agency buying law-enforcement technology, but I do know, right when I buy subscription technology when I'm buying cloud technology when I'm doing these types of things, I know what my expectations are of the supplier or vendor or partner in those scenarios. So I think there's a lot of different ways the technical background can really contribute to, you know, the conversation in a lot of different areas. For me, specifically, it acts on I am on the audit committee and my role is around risk around security and those types of things, but also risk around infrastructure systems, you know, business continuity, all these other things that are important to them. So I think there's ways to kind of find how you make those an important part of current audit committees that are already underway.
Shruti Tournatory  14:38  
What do you believe, is sort of the biggest reward of being a board director? The mixing of goals worth pursuing, and investing precious time and effort for female CXOs who are already in executive management roles, or what have been sort of the the biggest rewards from your perspective of either being a board director or board observer?
Julie Cullivan  15:00  
So I will say, I mean, I really do enjoy the role very much. And for me, one of the things I love about it is that people always say, "Oh, when you've been an operator for a long time, it's very difficult to become the board advisor" and that, "you're the kind who wants to always get your hands in there and whatever they say nose in hands out." I will tell you what, those enhancements are not nearly as difficult as a transition as people make. So I kind of I feel like what I enjoy most about it is: I'm contributing in a way that then I am not necessarily responsible for doing all the execution as well, right? So I'm able to engage and and, you know, like I said, leverage experiences or lessons learned that I've had and be able to really, you know, help them in those areas, but then in the end, know that I'm handing it to them and they're going to go off and make these things happen. And do what needs to be done and that will stay engaged along the way. 
I find that it's a time commitment, but it's a different type of energy. And I also know how sometimes when you're in the role, you're in the thick of things, you're working side by side with your colleagues and peers, you might have a real strong thought or opinion or recommendation on something, but because your peers, working together everyday, you don't necessarily bring the same gravitas to the conversation. Whereas, I feel like as a board member, it's like, there's a lot more like really wanting to hear what it is that I have to say. And, and willing to sort of take that, sort of suggestion, feedback and incorporate it. 
So I find that the role itself is,  some things about it that make it more, I don't know more rewarding in some ways. Because, you're sort of, letting them go make it happen. Whereas when you're in an operating role, you're recommending, you're advising, you're creating a strategy, but then you're also responsible for executing on the entire thing. So it's a big time commitment. 
But I will say that I was well prepared for that in the sense that I had had a lot of people make sure I understood not just as I was going through the [board[  journey, but from Axon themselves as to what their expectations were. And I feel like is, and as women, we juggle things very well. So you figure out a way to make those things happen. And like I said, there's something rewarding about it, so you don't actually mind the extra time.
Shruti Tournatory   17:44  
So one of the scenarios in which the board of a company really comes into sharp focus and becomes particularly active is in crisis scenarios, whether we're talking about a takeover situation proxy battle, M&A — although not all of those necessarily have to be crises. But those are definitely areas where a board is expected to take a very, very active role in navigating companies through difficult times. And we are now needless to say, as we are sheltering in place here as we speak.  We're facing an unprecedented crisis as an industry, as a society, and as a global economy with the current pandemic.  What role does a board of directors play for a company, any company, in any industry in times of crisis, like this? What is the opportunity for impact that a board can have? And what is really expected of a board during sort of defining moments like the one today?
Julie Cullivan  18:47  
It's interesting timing, because we had our last board meeting on March 13. Right, so that is when I would say still, even earlier that week, we were all kind of like "how serious is this?"  It took on a whole new meaning and we happen to have a board meeting that day virtually. 
We had moved to virtual board meetings a couple of times a year, already having no idea that COVID-19 would take place. So it just was sort of, you know, luck of the draw that our Q1 board meeting was already planned that way. 
Anyone I think officially announced as a national emergency that very day. And so the real fascinating thing about it was that a board member sitting in Silicon Valley versus a board member sitting in Seattle versus a board member in Virginia how uniquely different the perspectives were, depending on where you were physically. The different levels of, you know, sort of seriousness and concern kind of started with Seattle. I would say even Virginia was a little like, "Gosh, we still seem to sort of be operating business as usual." So it was kind of fascinating timing wise that we all happen to be together. 
I was able to share some of the things that we were doing at ForeScout, because being the chief people officer, I was was in the thick of things — not to mention also having to make sure everyone could be remote on a moment's notice. And luckily, we were already on that path. So just kind of talking through those things, and being able to talk to their chief people officer, as well as their executive team, about some of the things that they had planned and where maybe they needed to accelerate. They also have a heavy manufacturing component. so to suddenly not have people hands-on working; that creates a whole different dynamic for them in terms of supply chain, which is a supply chain for first responders. 
I will say that the board has been very engaged in terms of advising, but also acts on continuously keeping us up-to-date as they look at their global footprint.  What things they're implementing and putting in place.  Decisions they're making about how do you continue to support first responders in a scenario like this right? And sort of the extra things that need to be put in place. They're always checking in with the board to sort of say, "Hey, you know, anybody have any other thoughts? Or do you have any sort of concern about some of our approaches on these things?" Everybody's been very engaged and also very supportive of what they're trying to do. 
So, we've done the M&A, we've done a secondary, we've got some things going on with the FTC right now. It is never dull in terms of the things that come up outside of just "how are you doing against the numbers" and against the strategy?  We all adjust to as we need to.
Shruti Tournatory
Thank you so much, Julie, for joining us for our inaugural virtual board readiness. Really appreciate you being a part of the conversation, the movement, if you will. And we will see all of you again in a few weeks with our next board director, speaker. I wish you good health and lots of virtual productivity.
Disclaimer:  Nothing presented within this article is intended to constitute investment advice, and under no circumstances should any information provided herein be used or considered as an offer to sell or a solicitation of an offer to buy an interest in any investment fund managed by Sapphire Ventures. Information provided reflects Sapphire Ventures' views as of a time, whereby such views are subject to change at any point and Sapphire Ventures shall not be obligated to provide notice of any change. Companies mentioned in this article are a representative sample of portfolio companies in which Sapphire Ventures has invested in which the author believes such companies fit the objective criteria stated in commentary, which do not reflect all investments made by Sapphire. A complete alphabetical list of Sapphire's investments made by its direct growth investing funds is available here. No assumptions should be made that investments listed above were or will be profitable. Due to various risks and uncertainties, actual events, results or the actual experience may differ materially from those reflected or contemplated in these statements. Nothing contained in this article may be relied upon as a guarantee or assurance as to the future success of any particular company. Past performance is not indicative of future results.