Blog Post
Revolutionizing Customer Service with Cloud-Based Multichannel Engagement: Why Sapphire Ventures is Excited About UJET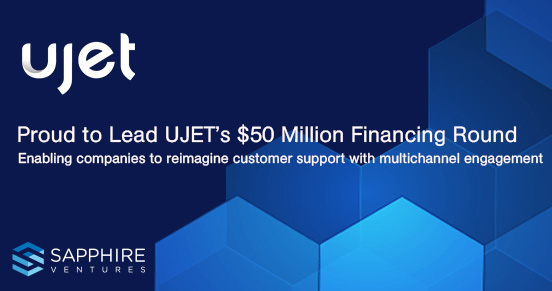 We're thrilled to announce today that we are leading UJET's $55 million financing round. UJET's cloud-native customer support software helps companies across all industries transform how they deliver multichannel support to customers in need. Pre-Coronavirus data shows that 56 percent of people have stopped doing business with a company because of poor customer service.The demand for fast, effective and personalized customer service has been growing for some time. We believe COVID-19 has accelerated the need for companies to adopt a platform like UJET as they tackle a massive uptick in inquiries due to cancelled flights, missing packages and more.
UJET empowers companies to reimagine customer support by providing them with an all-in-one platform that enables them to create intelligent workflows, make data actionable and create a modern business model that's immersive, engaging and delivers a one-of-a-kind customer experience. We are looking forward to supporting UJET on their journey to revolutionize the customer support and contact center markets, and helping them build a Company of Consequence.
Here's why Sapphire Ventures is excited to partner with UJET:
Contact Center as a Service (CCaaS) takes customer support to new levels
Contact centers have been critical to customer service, sales and marketing workflows for the past three decades. Over the years, much has changed as the industry experienced several waves of technological innovation. The first wave took place in the 1980s and 1990s alongside the rise of telemarketing. Companies like Genesys and Avaya capitalized on the digitization of telephony by offering on-premise unified communication platforms to enterprises. 
The migration to the cloud triggered the next wave of innovative customer support companies led by companies such as  Five9 and Nice inContact. As seen with other enterprise software categories that have moved to the cloud like CRM, HCM and ITSM, cloud contact support has offered enterprises a flexible and scalable alternative to difficult to implement and manage legacy on-premise solutions. Contact Center as a Service (CCaaS) solutions have done well as more enterprises move their contact centers to cloud platforms, but the shift is still very much in its early innings. Five9 estimates that CCaaS solutions only have 15 percent market share because of the complexity of existing on-premise software used by companies with tens of thousands of customer support agents, but we are optimistic about the opportunity ahead.
We are now entering a new wave of innovation in the cloud contact center space where multimodal omnichannel and AI are key components of what's next. We believe that UJET is building the next generation CCaaS solution with its highly scalable and reliable platform that brings together multiple channels of contextual data to provide personalized customer journeys and leverages AI to enhance agent efficiency–all in an effort to improve the customer experience. 
Most recently, COVID-19 tested call center operations, exposing platforms that are flexible and adaptable and those that aren't. While technology refresh cycles typically happen eight to 10 years in this market, we believe that the pandemic has sped-up the need for more innovative and scalable CCaaS solutions like UJET. That's why UJET is now powering the world's largest cloud contact center with over 22,000 agents on a single tenant, enabling UJET to grow licenses by 400 percent in the last 12 months.
Voice, messaging and mobile are transforming the customer experience
Whether chatting with a service bot online or messaging a customer service rep in-app, customers today rely on multiple channels to reach support agents. UJET goes beyond voice and IVP customer support, enabling companies to engage with their customers on the channels they prefer including web messaging, text, in-app and more. 
UJET also offers mobile features unlike we've seen before such as user authentication via a smartphone camera to enhance customer interactions and increase support efficiency. On the agent side, UJET's integrated omnichannel solution connects the customer to the right agent quickly. While customers wait to connect to an agent, UJET offers features like Wait-Time Messaging (automated information requests while on hold) and photo or video requests (sending media directly to agents) to reduce the time it takes to resolve an issue. Companies that are able to provide seamless, differentiated and speedier customer support improve the overall experience, resulting in brand loyalty. That's especially the case in times of high stress as seen more recently.
AI-powered virtual agents are expected to dominate contact centers
We recently heard Five9 say that 90 percent of all customer support cost is spent on labor and only 10 percent on software. When looking at these figures it's easy to understand why virtual agents invoke so much excitement. Compared to the earlier generation of this technology, virtual agents today are far more sophisticated, benefitting from NPL and NPU advancements in the last few years. In fact, Gartner predicts that 40 percent of contact center interactions will be fully automated by 2023. Because virtual agents alleviate much of the total cost involved in delivering quality customer support, innovative companies are in the process of rolling out these in-demand solutions. Soon-to-be released, UJET is developing its own virtual agent for automating customer support interactions that will reflect UJET's mobile-first approach by leveraging smartphone capabilities. More to come here!
Differentiated leadership and a committed team
Time and time again, the companies we've seen succeed in their journey to become a Company of Consequence typically have a differentiated founder and team. UJET's founder and CEO Anand Janefalkar doesn't have a contact center industry background. His story is unique in that he was compelled to start UJET because of an extremely poor experience he had with customer support and call center agents. He persuaded Joerg Habermeier who was previously at Facebook to join his company as VP of Product, and hired engineers from cloud-native and cloud-scale companies to rethink how to build a cloud-native, cloud-scale and mobile-first CCaaS platform. Most recently, UJET brought on Darcey Harrison as the Chief Revenue Officer (CRO), Vasili Triant as the company's Chief Business Officer (CBO) and Baker Johnson as VP of Marketing to round out their go-to-market (GTM) team and help the company grow to the next level.
"We're very excited to partner with Sapphire Ventures, a well-known and respected VC firm that's known for its enterprise software investments," said Anand Janefalkar. "Since meeting earlier this year, the Sapphire team has been energized by what we're doing in the customer support space, and has been committed to our vision. This round of funding will allow us to drive product innovation, build out our go-to-market strategy and support our growing customer base during this unprecedented time in history and beyond."
With this new financing round and with the support from Sapphire's Portfolio Growth team, we're excited to see UJET continue to help enterprise customers provide best-in-class customer experience by driving adoption of its cloud-native and mobile-first contact center and customer support platform.
Disclaimer: Nothing presented within this article is intended to constitute investment advice, and under no circumstances should any information provided herein be used or considered as an offer to sell or a solicitation of an offer to buy an interest in any investment fund managed by Sapphire Ventures. Information provided reflects Sapphire Ventures' views as of a time, whereby such views are subject to change at any point and Sapphire Ventures shall not be obligated to provide notice of any change.Companies mentioned in this article are a representative sample of portfolio companies in which Sapphire Ventures has invested in which the author believes such companies fit the objective criteria stated in commentary, which do not reflect all investments made by Sapphire. A complete alphabetical list of Sapphire's investments made by its direct growth and sports investing strategies is available here. No assumptions should be made that investments listed above were or will be profitable. Due to various risks and uncertainties, actual events, results or the actual experience may differ materially from those reflected or contemplated in these statements. Nothing contained in this article may be relied upon as a guarantee or assurance as to the future success of any particular company. Past performance is not indicative of future results.