Blog Post
Welcome Karan – Sapphire's Revenue Excellence Leader!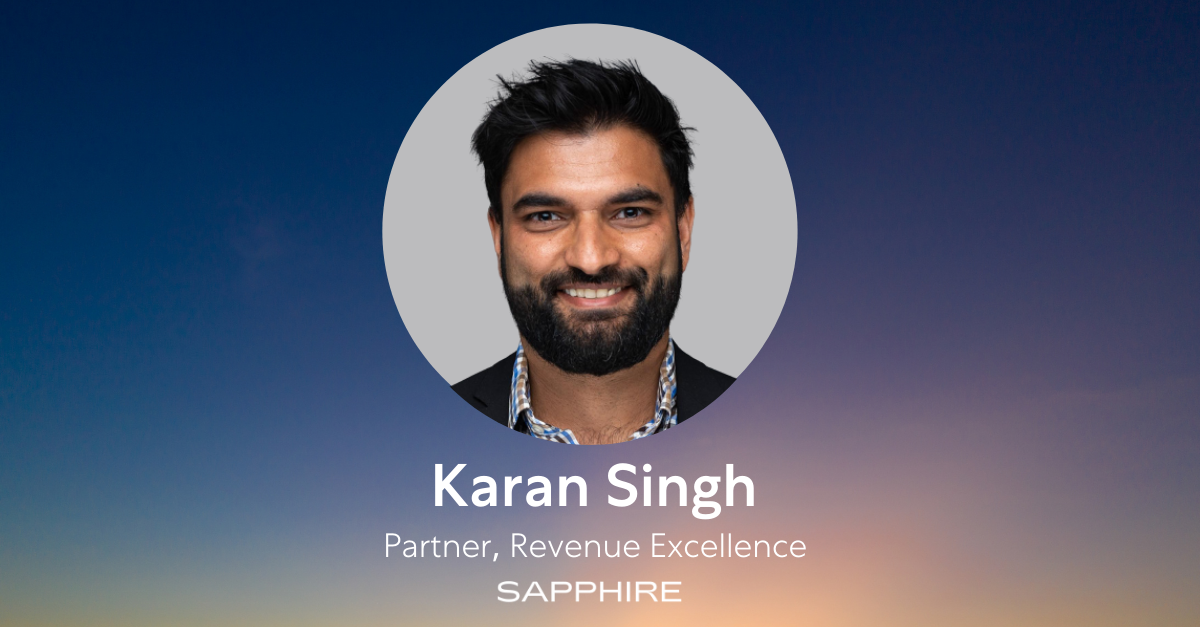 We're incredibly excited to announce that Karan Singh has joined Sapphire Ventures! He will lead our Revenue Excellence practice as part of our broader Portfolio Growth platform, which is dedicated to helping our portfolio companies scale by gaining access to customers and talent, and leveraging best practices across functional areas, namely revenue excellence. 
In his role, Karan will be responsible for building a team and network of industry experts for scaling B2B go-to-market organizations to help Sapphire companies traverse the arduous road from $5M to $500M ARR. He joins us most recently from Procore, where he led Revenue Operations, but our relationship with Karan dates back a number of years.
I first met Karan through my good friend, Lars Nilsson (thanks Lars!) when both were working for Cloudera in the 2014-2015 timeframe.  I was conducting market and customer diligence, and Lars immediately pointed me in Karan's direction as someone who was deep in the revenue technology space. At the time, Karan was head of sales operations at Cloudera. During my conversation with him, it was clear that even back then, he had not only achieved proficiency in his core role of revenue operations, but also had clarity in communication, and brought a level of creativity to his role that I have found exceedingly rare.
One example, in particular, stands out: when we first met, Karan was building manual models replete with algorithms to measure revenue performance and help with forecasting, which at the time, was extremely uncommon. He was able to explain the GTM organizational design at Cloudera and the implications it had on the SaaS toolset their organization used compared to what other companies might need based on their GTM models.
I walked away impressed with the conversation and am pleased to say that we stayed in touch ever since. Over the years, we've had numerous conversations. What started out as a business relationship, chatting about the latest hot SaaS company, turned into a friendship.  In fact, what I like most about Karan is his thoughtfulness and warmth – always kicking off conversations by asking about family and relating to me on a personal level.
So, when we began our search for a Head of Revenue Excellence, we knew Karan would be an ideal fit for the job at hand. He is a great listener and can work with a variety of GTM leaders in a consultative manner, understanding their needs and solving them when he can. In addition, Karan brings the self-awareness, humility and network needed to bring in the right individual or set of resources when needed.
We are thrilled to welcome Karan to the Sapphire team, and can't wait to work with him, and our revenue leaders to further propel their growth for years to come!
Disclaimer: Nothing presented within this article is intended to constitute investment advice, and under no circumstances should any information provided herein be used or considered as an offer to sell or a solicitation of an offer to buy an interest in any investment fund managed by Sapphire Ventures ("Sapphire"). Information provided reflects Sapphires' views as of a time, whereby such views are subject to change at any point and Sapphire shall not be obligated to provide notice of any change. Companies mentioned in this article are a representative sample of portfolio companies in which Sapphire has invested in which the author believes such companies fit the objective criteria stated in commentary, which do not reflect all investments made by Sapphire. A complete alphabetical list of Sapphire's investments made by its direct growth and sports investing strategies is available here. No assumptions should be made that investments listed above were or will be profitable. Due to various risks and uncertainties, actual events, results or the actual experience may differ materially from those reflected or contemplated in these statements. Nothing contained in this article may be relied upon as a guarantee or assurance as to the future success of any particular company. Past performance is not indicative of future results.