Blog Post
Virtual Annual Meetings are Here to Stay: Best Practices for Re-Imagining the AGM for our Remote World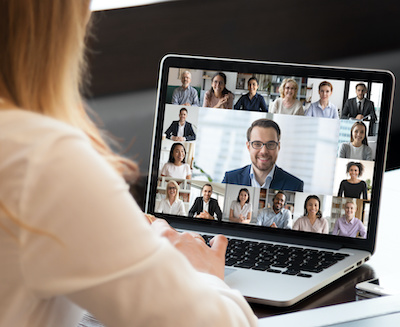 Love them or hate them, virtual annual meetings (AGMs) are here to stay for now. I for one am a huge fan of annual meetings and think they are one of the more valuable interactions between LPs and GPs. I believe they're so important that last year I published this piece providing GPs with an LPs perspective on how to run a high-value AGM. I followed up with some initial tips as the world started to change in March with all of us sheltering in place. 
Unfortunately, rather than being a temporary fix, it looks like AGMs will be held virtually for the foreseeable future. Given this shift, and my observations from numerous virtual annual meetings I have attended in the last couple months, I wanted to update our recommendations in advance of the Fall (now virtual) annual meeting season, and highlight how to adapt best practices from IRL to make the virtual format an asset, not a limitation.
My Advice for a Well-Run, Virtual AGM:
Before I begin, I want to note that there is no single recipe for success. The most successful AGMs are authentic to your culture and take the characteristics of your platform into consideration while providing your LPs with an engaging and informative experience.  My advice breaks down into 3 different categories: 
1. It's (still) about the content —
At the end of the day, the main objective of an AGM is still about sharing information. LPs still want to know about the investments and any updates to the team and strategy, with a focus on information that cannot be gleaned from just reading quarterly reports or emailed communication. Since that generally includes topics such as segmenting the portfolio, sharing projections for funds' ultimate returns, new investments or near-term liquidity, here are some considerations for handling those conversations in a virtual AGM:
Send decks in advance. That way you don't need to read the material during the meeting and people can formulate questions in advance so the dialogue will (theoretically) be higher quality. 
Don't practice "Death by PowerPoint." If you have slides, great, but don't just project / talk to slides for multiple hours. You need to think of the virtual AGM as more of a broadcast. To keep the energy up, you need to switch content formats and speakers, and it's always more engaging to look at humans than PowerPoint.
CEO presentations are still important; hearing the story directly is always the best. We have seen various formats including 5-10 minute, well-edited videos by CEOS, panels of CEOs, or short individual presentations followed by Q&A. I've always been impressed with

LocalGlobe

's thoughtful approach to incorporating the community with a separate virtual day with short company presentations that also involves other investors and founders. 

Don't forget to discuss capital calls. One topic that LPs have been more interested in now more than historically is a rough capital call schedule (for the rest of the year). The stock market has gone back up to a high, but if the market shifts, it is helpful to have this information. 
Zoom on the Offensive:

You might be able to reach more people virtually within an LP organization since meetings are not confined to people who can travel or fit in a specific venue. Think of expanding your audience as a potentially good investment so more of an LP's team is familiar and up to speed for the next fundraising. If you're comfortable with it, you can also invite prospective LPs to your virtual AGM. We've seen numerous GPs do this over the last few months and expanded their relationship with prospective LPs for future funds. Ourselves included.

Inserting some pre-recorded or higher-quality video segments can help maintain the energy and help with your transitions between topics. Don't do the whole AGM pre-recorded though. If the whole thing is pre-recorded, why bother having the meeting? Don't lose the "realness" and spontaneity that comes from a live event.  

Breaking out smaller groups can actually be easier using Zoom. For example, you could use breakout groups with CEOs after their presentations so LPs can ask questions. Break-out rooms give the structure for smaller groups although if your LP base is small enough, you can just do it as a full group and let folks ask questions.
2. Be creative about interactions with your team and others in the "room" —
One of the biggest elements missing from in-person AGMs are all the unscripted interactions that take place around the meeting. This includes interactions within your team and with LPs, which provide LPs with opportunities to ask specific questions, and get to know your team better. Additionally, LPs lose the time with other LPs or attendees to network, share insights or discuss trends. To help bridge this interactions gap:
Make sure you have multiple team members speak, and highlight any changes in the team as LPs cannot "see" the room.
Zoom on the Offensive:

As mentioned, you can use the breakout feature to make smaller groups. Perhaps breakouts can replace the coffee and cocktail conversations. One successful approach we have seen at conferences that could be transferable is assigning attendees to breakouts with various partners to talk about the market or for general Q&A.

None of the AGMs I've been to have done this, but I think it would be awesome to create an interactive portion of an annual meeting to get LP's feedback on the market. What are LPs seeing/doing? Europe sounds like it is back up and running so are European LPs having a different business travel/meeting experience then we are in the US? Would endowments share what they are thinking about for 2021? What about hospital systems? It would be great for everyone to benefit from the insights but perhaps just those interested could go to a LP Zoom break-out post the annual meeting?

It's also easier to do surveys, hand raising and other interactive elements with virtual meetings. Take a moment to ask the audience about their views or perspectives on the environment or other topics.

If a meeting is too large, the LPAC serves as its own type of breakout. You can hold the LPAC on a separate zoom either before or after the annual meeting. They can pre-run the deck if using it before to see if folks have questions/comments or do it after to get feedback or additional market sentiment.
3. Virtual is a different beast.  Design your day for the experience you want your audience to have.
Do the basics right. This isn't just "another Zoom" and you should invest time into making sure you have a good tech foundation. Make sure to test your tech platform, have reliable wifi, and have a better webcam and mic set up than your laptop. At the same time, don't worry too much about being perfect. Dropped coverage, slightly rocky speaker transitions or some type of technical issues

may /

will happen. They are common and we are all human.

Choose the right event platform. In terms of how you deliver your AGM, LPs are comfortable with Zoom, and most if not all already have it set up, so that is an easy option but there are

plenty of virtual meeting platforms

out there if you want to develop a different experience. 

Shorten the overall time of your AGM. It's unlikely you want to sit straight for an 8-hour board meeting and it's equally hard for an LP to be glued to a screen for that amount of time. We've found the ideal length of a virtual AGM is 2-3 hours. If you feel that you have a lot of essential content, you can break the meeting into two shorter sessions done on different days. Additionally, we would like to be there for the entire meeting, but the realities of sheltering in place can make it difficult. It is helpful to send a detailed agenda with a timeline (that you stick to) in advance to facilitate self-service of content.
Build in breaks. Even a shorter meeting could use some 5-10 minute bio breaks so that those of us with you don't miss something important.
Take questions in multiple formats. Zoom can be hard for big groups to interact, and some people are shy or don't want to ask a question when they don't know who is "in the room." For all of these reasons, it's helpful to take questions both live and via chat.
Don't forget to build memorable moments. Even when you have to host your AGM virtually, there's still the opportunity to add small touches that will make your AGM more memorable. Do not feel like you have to send SWAG, but if there is something that you feel brings people together or makes the meeting feel more personal, by all means. T-shirts are always great but creative ideas could include cocktail kits or branded masks. We just had a couple GPs ask for our addresses and we are looking forward to what shows up in the mail.
We are all looking forward to being back together again in person at annual meetings. Between now and then we will all continue to live and learn the remote life and do the best we all can do. If you have other best practices from remote annual meetings to share, I'd love to hear from you. See you all in person as soon as we can.
Disclaimer:Nothing presented within this article is intended to constitute investment advice, and under no circumstances should any information provided herein be used or considered as an offer to sell or a solicitation of an offer to buy an interest in any investment fund managed by Sapphire Ventures, LLC ("Sapphire"). Information provided reflects Sapphires'' views as of a time, whereby such views are subject to change at any point and Sapphire shall not be obligated to provide notice of any change. Nothing contained in this article may be relied upon as a guarantee or assurance as to the future success of any particular company. The content and views contained within this article represent those of the authors presented, which do not necessarily reflect the views of Sapphire. Such views are subject to change at any point and do not in any way represent official statements by Sapphire. While the authors have used reasonable efforts to obtain information from reliable sources, we make no representations or warranties as to the accuracy, reliability, or completeness of third-party information presented herein, which is subject to change. Past performance is not indicative of future results.