Blog Post
The #OpenLP Podcast Miniseries: Jaclyn Hester of Foundry Group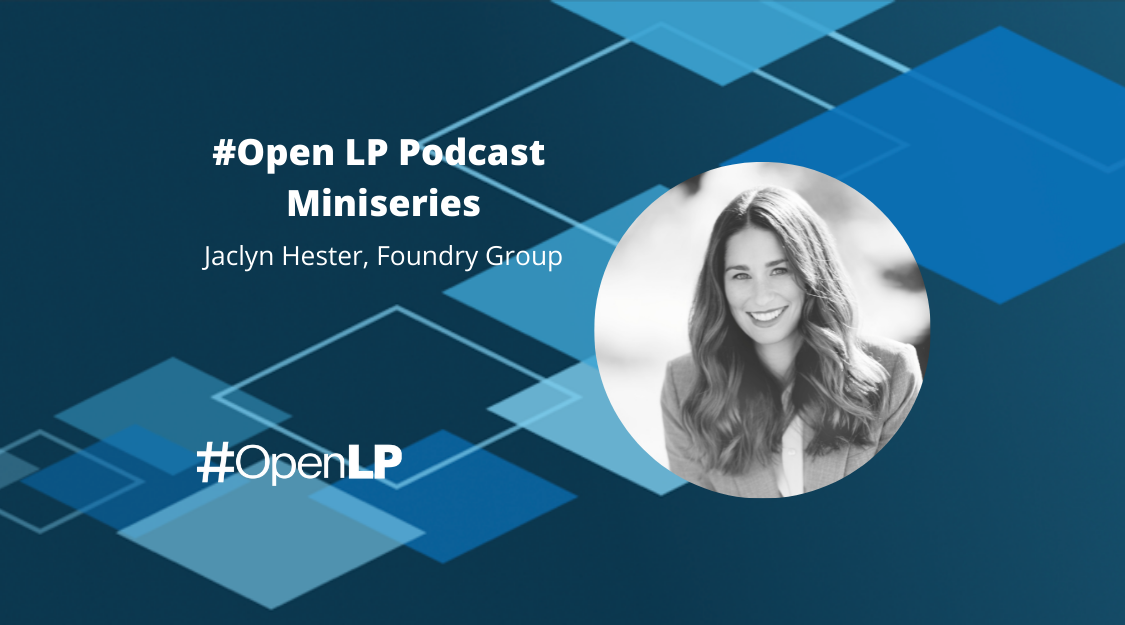 #OpenLP is doing a mini-takeover of Notation's Origins podcast. Listen to episode one featuring Notation, episode two featuring Kim Lew of the Columbia University endowment, and episode three featuring Saul Klein of LocalGlobe.
In this episode of the #OpenLP podcast miniseries, Sapphire Partners' Laura Thompson chats with Jaclyn Hester, Partner at Foundry Group. Jaclyn joined Foundry in 2016 and is active across their portfolio of startup companies and venture funds. She helped launch their partner fund strategy, and works closely with partner fund managers, while also leading new fund investments. 
Prior to joining Foundry, Jaclyn practiced corporate law at Perkins Coie LLP and Baker & Hostetler LLP. As an attorney, she advised startups and private equity firms as well as buyers and sellers in M&A transactions. Her previous life as a lawyer adds a unique lens to her work with startups and venture funds. 
During the conversation, Laura and Jaclyn touch on the following topics:
Her unique path to venture as a lawyer and how she navigated the transition to investing

How LPs think about adding firms to their portfolio and how/why Foundry also makes direct investments in companies 

What she considers the most important criteria for achieving outperformance and how she identifies funds with these traits

Her preferred way to think through fund performance assessment and "paper valuations"

The best way for GPs to handle rejection from LPs while still preserving the relationship for potential future fundraising

And much, much more…
Disclaimer: Nothing presented within this article is intended to constitute investment advice, and under no circumstances should any information provided herein be used or considered as an offer to sell or a solicitation of an offer to buy an interest in any investment fund managed by Sapphire Ventures ("Sapphire"). Information provided reflects Sapphires' views as of a time, whereby such views are subject to change at any point and Sapphire shall not be obligated to provide notice of any change. Views presented may reflect the authors' opinion and/or interpretation and Sapphire provides no assurance to the accuracy of such views. Various content and views contained within this article represent those of third party guests, which do not necessarily reflect the views of Sapphire. Such views are subject to change at any point and do not in any way represent official statements by Sapphire. Various statements made by third party guests about Sapphire relate to the nature and type of management services provided by Sapphire and do not constitute testimonials to Sapphires' investment advisory services and no inference to the contrary should be made. Companies mentioned in this article are a representative sample of portfolio companies in which Sapphire has invested in which the author believes such companies fit the objective criteria stated in commentary, which do not reflect all investments made by Sapphire. A complete alphabetical list of Sapphire's investments made by its direct growth and sports investing strategies is available here. No assumptions should be made that investments listed above were or will be profitable. Due to various risks and uncertainties, actual events, results or the actual experience may differ materially from those reflected or contemplated in these statements. Nothing contained in this article may be relied upon as a guarantee or assurance as to the future success of any particular company. Past performance is not indicative of future results.