Blog Post
Top Challenges Today's Product Managers Face
On July 10th, Sapphire Ventures hosted a private Product Leader Dinner to discuss the top challenges that product leaders face today. The San Francisco-based event was attended by nearly twenty product executives from fast growing and venture-backed startups such as Astound.AI, InfluxData, and Narrative Science and global technology companies such as LinkedIn, Salesforce, and Uber.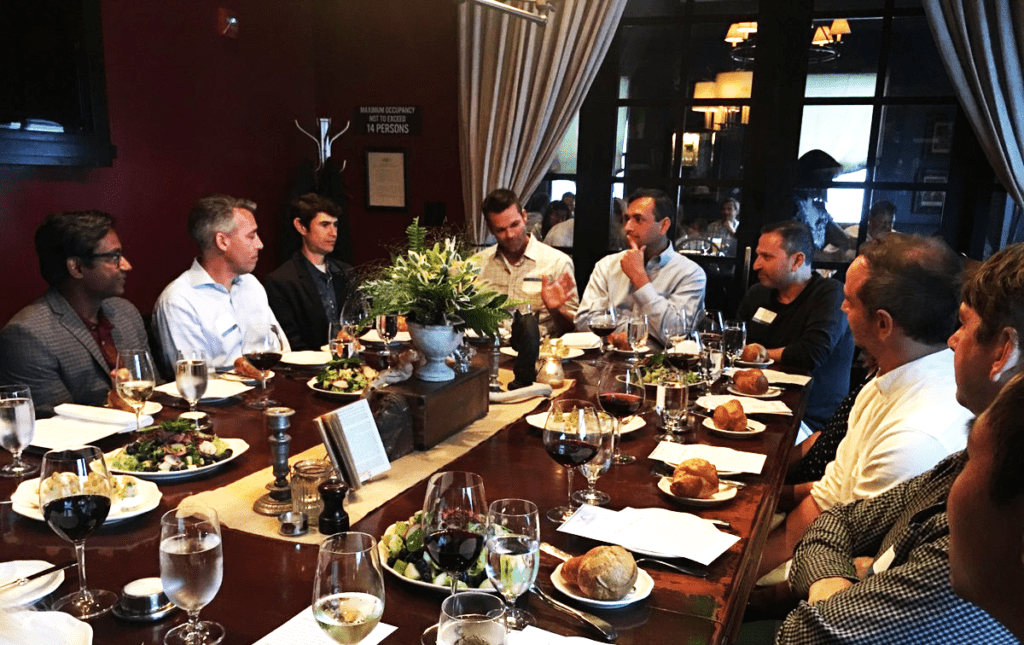 The event featured a round table discussion around four specific subject areas: Innovation and Fundraising; Product Development; Managing Disruption; and Market and Team Development. The product leaders in attendance used their respective knowledge and experience to take turns acting as hosts during the round table discussion, and a few of the questions raised during the conversation will be discussed below.
Special thanks to Mauro Mujica-Parodi III, VP of product at Narrative Science, one of our portfolio companies, for inspiring the event and helping to distill the following key questions and takeaways.
Innovation and Fundraising
How do you foster innovation and continue to motivate your teams to dream big — especially at a large company?
While the group was hard pressed to find many examples of large companies who do this well, they were confident that it could be achieved with the right conditions in place. They agreed that a company's culture is a key driver in supporting whether innovation can truly survive at scale. Within a company's culture, they emphasized the importance of questions such as whether risks are rewarded and whether innovation is allowed to permeate the entire organization or is restricted to one small group.
One solution that the group did discuss was innovation groups, but it was a shared sentiment that if innovation groups are going to be successful, a sound structure must be in place:
A clear mandate should be enacted; only 10X ideas should be entertained and invested in, and failure is an option.
All layers between the group and the Executive Leadership Team should be removed. Moving successful initiatives out of incubation and into production will often require executive level support to alter the status quo.
The team should be cross functional, and the leader should be seen as a strong influencer within the organization as a whole.
The team should not be held to the same standards for status updates as a production team: executives need to provide the group with the creative space to let their ideas develop and evolve.
Product Development
How do you balance strategic product improvements with existing customers' immediate needs?
The group discussed two key points around this issue. First, they discussed the importance of better assessing the product development investments by focusing on the problem being solved rather than the solution. Members had ideas to do this by focusing on the life cycle of the product when prioritizing tasks and tying the development investment to actual customer metrics. In large part this stems from the ability to understand the difference between what a customer needs versus wants.
Second, members of the discussion agreed that partnering with a strategic customer to co-develop a proof of concept is vitally important. This partnership allows for real insights into how the product will be used and what needs the customer has. While there is a risk of "building to order," a strong product manager should be able to tactfully prevent that from occurring.
Managing Disruption
How do you get your teams to work better together and align around core success metrics?
The group discussed several concrete actions companies should take to drive better alignment across teams. First, a company should ensure that everyone is clear on the mission and core metrics of the company or the business unit. Leaders should check this by asking all team members to articulate the "why" and the "what" in their own words. Second, a team's overall objectives should be a level higher in comparison to the scope of their day-to-day responsibilities. This ensures that they are solving for the whole rather than for their piece of the problem. Third, the organizational structure should be such that team is encouraged and required to focus on realizing cross-functional opportunities rather than deep siloed thinking within their own department.
Market and Team Development
How do you and your team support customer success functions?
In order to enable teams to support customer success functions, the group focused the discussion around the importance of increasing the entire product development teams' external awareness. By requiring them to get first hand exposure to buyers and users, team members are more cognizant of the problems they are trying to solve.
As part of on boarding, new product and engineering hires should spend one to two weeks acting as a customer support representative, and this practice should even be continued annually to continue focusing on the buyer and user. Additionally, engineering team leads should be required to go on at least two or more customer visits a year and brief their teams on the experience. Finally, product managers should be meeting several times a month with customer support to better understand customer pain points.
Favorite Product?
Before entering the room, guests were asked to write down their favorite product. We thought that our product experts had some pretty creative, funny, and insightful answers, so we decided to share a few:
Telephone
Deck of Cards
VW Westfalia
Ricochet Modem
Tesla Model 3
Joule Sous Vide Cooker
Folding Wayfarers
Google Maps
1 Second Everyday
It was a fantastic night of networking, sharing of best practices, and "thinking bigger" as a collective of product leaders.