Blog Post
The Rise of Digital B2B Payments and Why We're Excited about AvidXchange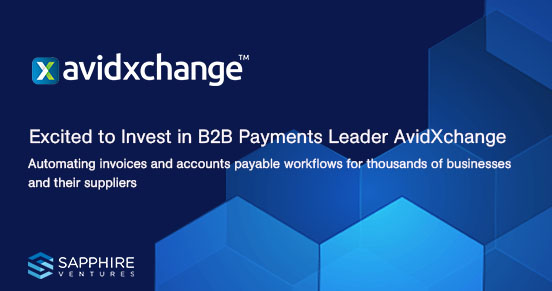 The global payments market is enormous. The industry is $240 trillion in size, which is larger than the global GDP of roughly $85 trillion*. Over the past decade, startups and established players have capitalized on this opportunity by modernizing the payment process for consumers. But the business-to-business payments space, which is actually much larger than consumer payments, remains antiquated and ripe for disruption.
In recent years, consumers have benefited from payment innovations such as contactless payments, mobile wallets and other forms of digital payment-taking. For most of our personal finance needs, we no longer have to step foot into a bank, carry a credit card or write a paper check. These innovations, which have modernized and helped how consumers transact, have also improved the payment process for merchants. All of which have been made possible by disruptors in the space like Square, a Sapphire Ventures investment, which went public in 2015, Stripe and many others. 
Interestingly enough, the B2B space has experienced far less innovation, despite it representing a bigger piece of the overall payments market. While the B2B payments total market size is at $125 trillion**, amazingly, less than two percent of B2B payments are made via credit and debit cards versus 54 percent for consumer payments***. The vast majority of invoices are still requested by mail and via paper or are emailed with PDF attachments, at best. And 98 percent of B2B payments continue to be made by writing paper checks and through bank ACH processing****.
Source: Credit suisse nice report – Payments Processors FinTech USA.pdf
For these reasons, we believe B2B payments to be one of the most interesting areas in fintech right now. The industry is in an early phase of disruption, and as we look ahead, the opportunity is vast. That's why we're excited to share that Sapphire has recently invested $35 million in AvidXchange, a leading B2B payments company that automates accounts payable and payment processes for the middle market.  
Sapphire Ventures and AvidXchange partner to streamline the B2B payment process
AvidXchange is a leading fintech company that provides B2B payment automation for thousands of businesses and their suppliers, processing more than 12 million payments annually*****. AvidXchange's platform starts by digitizing paper or PDF invoices and automating accounts payable workflows. By digitizing these processes, and integrating with dozens of enterprise resource planning (ERP) and accounting systems, AvidXchange reduces the need for tedious paperwork. The result is an entire payment process and workflow that is faster, better organized and less error-prone from invoicing to payment.
By serving its invoice-paying customers, AvidXchange has also built a massive network of more than 680,000 suppliers across multiple industries. These suppliers benefit from the online workflows, and are able to receive expedited payment through virtual cards or AvidPay Direct, an enhanced ACH payment offering. As more invoice-paying customers onboard their suppliers, the AvidXchange network becomes a familiar standard both to buyers and suppliers, and increases the value to each side of the network. We believe network effects are a very compelling growth driver, as we've seen in other Sapphire portfolio companies like LinkedIn, Square, Docusign, OnDeck Capital and Ticketfly.
We're thrilled to partner with Mike Praeger, the company's co-Founder and CEO, and his team in their mission to automate B2B payments. Mike started AvidXchange 20 years ago as a small entrepreneurial group in Charlotte, North Carolina. Since then, the company has grown to become a leader in the digital B2B payments space with 1,500 employees worldwide.
We believe that there is a tremendous runway for growth for AvidXchange, and are excited to be part of the company's journey in helping businesses embrace the future of payments.
*Global Payments Report 2019: Amid sustained growth, accelerating challenges demand bold actions
**Credit Suisse Report: Payments, Processors, & FinTech
***Credit Suisse Report: Payments, Processors, & FinTech
****Credit Suisse Report: Payments, Processors, & FinTech
*****Accounts Payable Automation | AP Software
Disclaimer: Nothing presented within this article is intended to constitute investment advice, and under no circumstances should any information provided herein be used or considered as an offer to sell or a solicitation of an offer to buy an interest in any investment fund managed by Sapphire Ventures ("Sapphire"). Information provided reflects Sapphires' views as of a time, whereby such views are subject to change at any point and Sapphire shall not be obligated to provide notice of any change.Companies mentioned in this article are a representative sample of portfolio companies in which Sapphire has invested in which the author believes such companies fit the objective criteria stated in commentary, which do not reflect all investments made by Sapphire. A complete alphabetical list of Sapphire's investments made by its direct growth and sports investing strategies is available here. No assumptions should be made that investments listed above were or will be profitable. Due to various risks and uncertainties, actual events, results or the actual experience may differ materially from those reflected or contemplated in these statements. Nothing contained in this article may be relied upon as a guarantee or assurance as to the future success of any particular company. Past performance is not indicative of future results.