Blog Post
Democratizing Data Insights with a Next-Generation Data Lake Engine: Why Sapphire Ventures is Excited to Partner with Dremio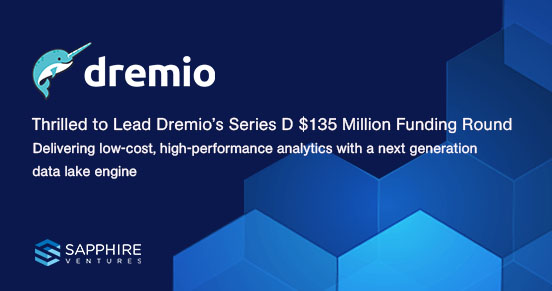 We're thrilled to share that Sapphire Ventures is leading Dremio's $135 million Series D funding round, which catapults the firm to unicorn status. Companies are producing more data than ever before and are increasingly relying on data insights to make important business decisions. Meanwhile, with growing cloud adoption and the separation of computing and storage, enterprises need an efficient way to analyze data stored outside of the traditional definition of a "data warehouse." 
We believe Dremio, a distributed SQL query engine, is tailor-made to respond to these market shifts. The company's technology allows data scientists and analysts to use existing tools such as Power BI and Tableau to rapidly query data using a self-service semantic layer directly on cloud data lake storage. Led by seasoned CEO Billy Bosworth and co-founder and Chief Product Officer Tomer Shiran, Dremio aims to move beyond separation of compute and storage, instead making the data itself a separate tier from compute, which allows analytics directly on full data sets independent of any vendor or proprietary formats. 
Here's more on why we're so excited about Dremio:
New computing trends driving demand for a different kind of analytics tool
Several key trends in the world of computing are fueling market demand for Dremio's solution. The volume of data companies are collecting, and its importance to business success, are ballooning. IDC estimates that more than 59 zettabytes of data were "created, captured, copied and consumed" in 2020–a number that's expected to grow to 140 zettabytes by 2024. 
Storing and making sense of this data has stoked the nearly $22 billion data warehouse market and the $26.5 billion business intelligence and analytics market. At the same time, more and more data is moving to the cloud, a trend that has only accelerated as the pandemic has turbocharged digital transformation initiatives across organizations.
The majority of data can't be stored in an all-in-one data warehouse for both technical and economic reasons. In addition and at a higher level of abstraction, there's a movement taking place towards a disaggregated software stack with each layer (storage, compute platform, compute frameworks for batch/real-time/SQL, etc.) built as composable Lego-blocks and away from monolithic and inflexible software stacks (such as a database with its custom storage format, parser, execution engine, etc. in a vertically integrated fashion).
As more companies move to a modern, disaggregated software stack, the separation between compute and storage functions are deepening. Yet the value of all this data can only materialize through analysis. We believe many companies need a tool like Dremio that can quickly access and directly analyze data stored in open formats in cloud storage, without costly data copying  and integration costs. 
Delivering low-cost, high-performance analytics with Dremio's data lake engine 
Dremio offers users maximum flexibility on when and where to analyze data, separating data from storage. It allows data scientists and analysts to run rapid, self-service queries directly on data lake storage such as AWS S3 and Azure ADLS. Dremio can perform speedy, high-performance queries at the same level as cloud data warehouses without the need to spend resources on data copying, integration or proprietary storage. A vertically integrated semantic layer and distributed SQL engine means teams can get data insights faster and at a lower cost whenever they need them. 
Dremio's product was built with the performance, security and scalability features that enterprises require. It fits well within the modern enterprise software ecosystem, giving companies the opportunity to use the analytical tools and storage options they prefer. Through a package of data catalog and lineage, Dremio provides strong data governance, allowing its customers—which include names like UBS, NCR, TransUnion and Henkel—to see how data was queried, transformed and connected across sources. 
A product-driven team and a seasoned CEO focused on rapid growth
Dremio was founded in 2015 by then CEO Tomer Shiran and CTO Jacques Nadeau who foresaw the need for a high-performance, low-throughput, low-cost technology stack for data lake queries. After about five years as the company's CEO, Tomer decided to recruit experienced CEO and enterprise technology leader Billy Bosworth from the company's board of directors to become Dremio's new CEO. With the move, Tomer could focus solely on they company's product strategy and vision as the chief product officer. 
In March 2020, Billy joined the company as CEO alongside Tomer and the broader team. For Dremio, Billy is nothing short of an ideal leader to take the business to the next level. He's an accomplished executive, having previously been the CEO of DataStax, board member at Tableau and senior leader at companies like Quest Software and Embarcadero Technologies. Billy is an operator through-and-through with a track record of rapidly scaling data-focused companies. Despite the challenges of COVID-19, he has already added 50 new team members since joining.
With this new funding, Dremio is poised to build on its proven product-market fit and scale exponentially. With an unwavering focus on execution, we believe Billy and the team are set up for accelerated growth and seizing market share. 
Dremio is a fantastic addition to our list of portfolio of B2B enterprise technology companies focused on data and analytics, including recent investments such as Alation, DataRobot, Pendo, ThoughtSpot and Uptycs, and recently exited companies like Looker, Segment and Sumo Logic.
We're excited to have Dremio become our latest partner in helping companies leverage data insights to drive better business results!
Disclaimer: Nothing presented within this article is intended to constitute investment advice, and under no circumstances should any information provided herein be used or considered as an offer to sell or a solicitation of an offer to buy an interest in any investment fund managed by Sapphire Ventures, LLC ("Sapphire"). Information provided reflects Sapphires' views as of a time, whereby such views are subject to change at any point and Sapphire shall not be obligated to provide notice of any change. Companies mentioned in this article are a representative sample of portfolio companies in which Sapphire has invested in which the author believes such companies fit the objective criteria stated in commentary, which do not reflect all investments made by Sapphire. A complete alphabetical list of Sapphire's investments made by its direct growth and sports investing strategies is available here. No assumptions should be made that investments listed above were or will be profitable. Due to various risks and uncertainties, actual events, results or the actual experience may differ materially from those reflected or contemplated in these statements. Nothing contained in this article may be relied upon as a guarantee or assurance as to the future success of any particular company. Past performance is not indicative of future results.