Blog Post
Leading the Way in Decentralized Clinical Trials: Why Sapphire Ventures is Excited to Partner with Medable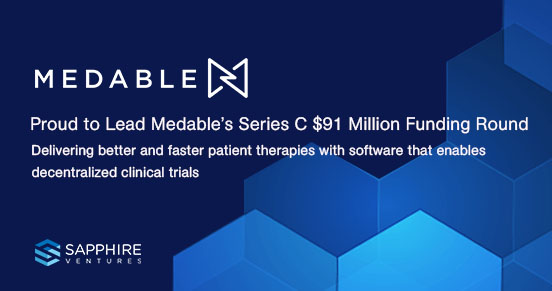 We're excited to share today that Sapphire Ventures is leading Medable's $91 million Series C funding round. Seemingly overnight, COVID-19 forced the healthcare industry to break through decades of systemic inertia and rapidly accelerate digital transformation. Now more than ever before, there's a massive opportunity for healthcare technology companies to pave the way for a new and better status quo–especially in the clinical trial space.
Medable's mission is to deliver effective therapies to patients, faster by providing software that enables decentralized clinical trials. We believe that the company's cloud-based, end-to-end platform is a best-in-breed solution to enable remote clinical trials. Medable's approach substantially reduces trial times, increases patient access and improves the patient experience, ultimately resulting in better trial outcomes. To help set new standards for clinical trials that will become the new normal long after the pandemic has passed, Medable is working closely with some of the world's largest biopharma companies and clinical research organizations (CROs). 
Medable's co-Founder and CEO Michelle Longmire, a Stanford-trained physician, and her team are well-positioned to seize this transformative opportunity in healthcare. Here's more on why we're so excited about Medable: 
An urgent healthcare opportunity for a lasting transformation
Despite the proven benefits of conducting clinical trials digitally, healthcare organizations overall have been slow to adopt the approach. Regulatory barriers and privacy considerations in the healthcare industry have contributed to slow uptake. But perhaps an even bigger obstacle has been the lack of change in a field that still often relies on healthcare professionals capturing outcome assessments from patients at a clinical site on pen and paper. 
The pandemic served as a shock to the system and opened the floodgates for the rapid adoption of healthcare and remote telemedicine technology, including clinical trials. As a result of COVID-19, about 80 percent of non-COVID-19 clinical trials were stopped or interrupted, and new studies couldn't enroll participants. The disruption caused costly delays for pharma, biotechnology and medical device companies working to get new drugs to market. With the traditional methods of conducting clinical trials no longer a viable option, the industry has rushed to invest in software that enables decentralized clinical trials (DCTs). 
Current events aside, the surge in demand for digital and DCT enablers is predicted to take off thanks to the myriad benefits of decentralization. Today, fewer than ten percent of the U.S. population participates in clinical trials, which usually require in-person visits to a facility. Taking trials digital widens the global pool of participants, leading to more and better data, time and cost savings for pharma companies, and faster and more effective drug development that benefits us all. It's no wonder that global spending on clinical trials is estimated by Grand View Research to reach $69B by 2025.
Best-in-breed technology that serves top global customers
Medable is primed to meet the unprecedented demand for digital and decentralized clinical trials in the industry today. Its modern, flexible and cloud-based platform features unique modular technology that maximizes the benefits of digital in individual studies. Medable also offers enterprise data and operational capabilities that ensures the interoperability necessary for seamless data capture across users and systems across just about any outcome assessment, device or digital endpoint.
Medable includes solutions for remote patient screening and enrollment, telemedicine (TeleVisit), remote eConsent (TeleConsent), and remote electronic Clinical Outcome Assessments (TeleCOA), which powers real time remote patient monitoring to track and analyze trial progress in real-time. Medable also offers solutions that leverage wearables and other devices to seamlessly capture patient data. And it provides patients with engaging apps. In other words, Medable delivers all of the elements needed to run a fully decentralized clinical trial. To top it off, Medable apps are available on web, mobile and tablet and feature slick, consumer-grade interfaces to optimize the user experience. 
Founded in 2015, Medable already counts the majority of the largest 20 biopharma companies in the world  among its customers. As a pure-play software vendor, Medable also partners with top global CROs, which are both customers and key distribution partners into the biggest global biopharma companies.  
A passionate team that combines medical and tech expertise
Co-Founder and CEO Michelle Longmire is a Stanford-trained physician who is passionate about improving human health and saw an opportunity to do so by becoming a company builder. She co-founded Medable alongside CTO Tim Smith, who is a second-time entrepreneur in the space, having previously founded a company that implemented Salesforce in large hospital systems. Michelle and Tim are deeply mission driven, tenacious leaders and they've built a team of seasoned executives driven by excellence, commitment and integrity—including EVP of Sales Eric Peper, SVP of Strategy and Solutions Ching Tian, and VP of Customer Success Jared Klingeisen who all bring deep expertise in the healthcare industry.
This latest funding round will enable Medable to meet surging demand by staffing up  go-to-market and customer success teams.
We're thrilled to have Medable become the newest addition to Sapphire's portfolio of healthcare technology companies. Our earlier healthcare technology investments in Fitbit, 23andMe and Livongo have taught us that digital platforms can improve healthcare outcomes and create meaningful Companies of Consequence at the same time. We're looking forward to partnering with Medable on its mission to accelerate the discovery of innovative medical treatments and improve healthcare for all. 
Disclaimer: Nothing presented within this article is intended to constitute investment advice, and under no circumstances should any information provided herein be used or considered as an offer to sell or a solicitation of an offer to buy an interest in any investment fund managed by Sapphire Ventures ("Sapphire"). Information provided reflects Sapphires' views as of a time, whereby such views are subject to change at any point and Sapphire shall not be obligated to provide notice of any change. Companies mentioned in this article are a representative sample of portfolio companies in which Sapphire has invested in which the author believes such companies fit the objective criteria stated in commentary, which do not reflect all investments made by Sapphire. A complete alphabetical list of Sapphire's investments made by its direct growth and sports investing strategies is available here. No assumptions should be made that investments listed above were or will be profitable. Due to various risks and uncertainties, actual events, results or the actual experience may differ materially from those reflected or contemplated in these statements. Nothing contained in this article may be relied upon as a guarantee or assurance as to the future success of any particular company. Past performance is not indicative of future results.