Blog Post
Building the Next Normal: 5 Key Insights for CMOs Delivering Virtual Events from Someone Who Knows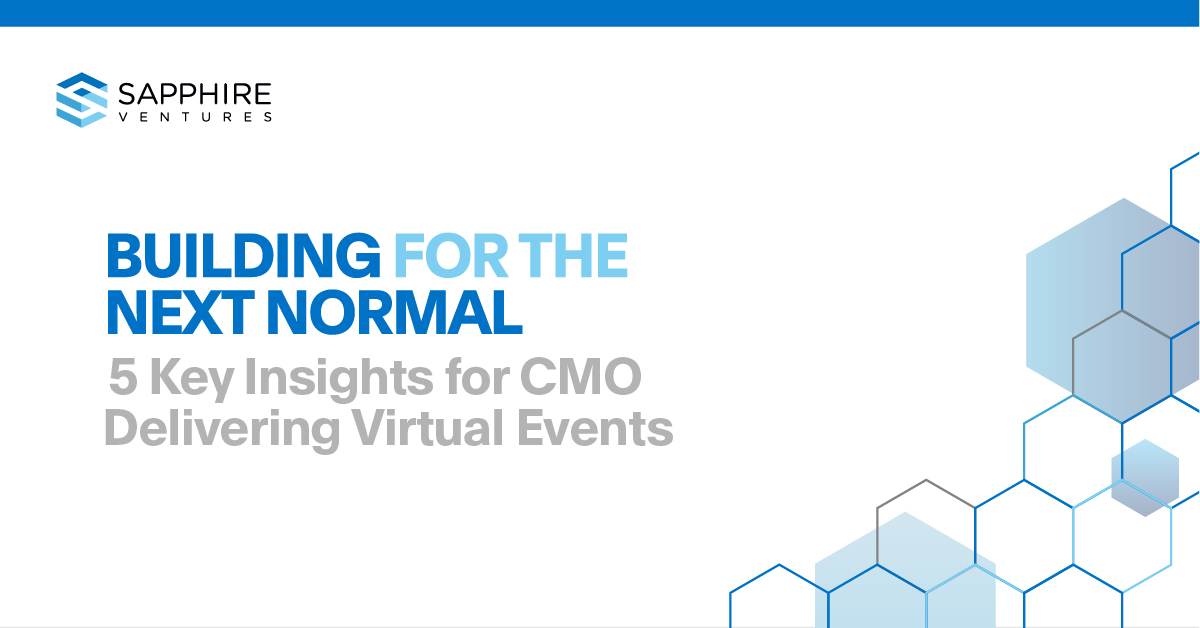 Like most companies, Sapphire Ventures converted all of our marketing events to virtual experiences at the outset of the Covid-19 pandemic. 
And, like many others, we initially thought of Zoom as our default home for events for the foreseeable future.
However — while Zoom (and Google Hangouts and Microsoft Teams) have served us well for webinars, roundtables and virtual cocktail hours — we quickly realized it would take far more functionality to to deliver the immersive, high-quality experience we wanted for Sapphire's annual, large-format CIO Summit. 
Even in our initial steps, we quickly realized producing virtual events requires thought, time, organization and planning on par with any similar in-person event.
For CMOs currently developing their own event strategies, here are five key insights essential to producing a virtual summit from beginning-to-end.
1. Set the stage: A virtual event is not "just another" online meeting 
Without the physical venue, the medium is the message with virtual events.  That's why a lowest-common denominator tech experience like Zoom or Teams doesn't translate well to hosting a multi-day event with 30+ sessions, 50+ speakers and hundreds of C-level attendees.
When you move to a virtual summit, Dwight Eisenhower's quote "Plans are useless. Planning is everything" becomes even more applicable. That's because in addition to your typical content and event plan, you're going to have the added complication of delivering your event to and from everyone's home.  The best laid plans go out the window as soon as your speakers' Wifi goes down, someone looks like they're broadcasting from a cave due to poor lighting, or the dog will bark at the most important part of a keynote.
You have to accept that you can't control everything, but once you shift your mindset from this being "just another Zoom" and start planning for what could happen, you'll be able to focus on the attendee experience you really want to deliver — and where things are likely to break. 
Spoiler Alert: Something will "break" during your event. Take my word for it. In the planning process, identify what levers and knobs you can pull in the moment to avoid failure.  In Eisenhower's words: "planning is everything."
2. Don't cheap out: virtual and physical events are more alike than you think
In my experience, a quality virtual event is no less expensive or complex to produce than a physical gathering. Full stop. 
When we started working on the CIO Summit, I was stunned at the initial cost estimates. I knew we would need to pull down a whole new technology stack, but I thought for sure that would still be a fraction of what a comparable, in-person event would look like.
Then, after receiving almost identical bids from several production agencies, I realized we were thinking about it all wrong.
"For in-person events, you are generally dealing with one venue or vendor that covers an array of costs: the space, existing infrastructure, and an execution and support team," explains Marcy Karpowitz, owner of MKMCreative and our eventual partner on the CIO Summit. "The same goes for your A/V where you have someone delivering sound, lighting, technical expertise, etc. Some of the fixed costs are spread across multiple speakers or activations, which provides the opportunity to move budget around and potentially gain economies of scale. In the virtual world, you have to purpose-build the infrastructure around the show's objectives, elements and each participant's needs."
Because of this purpose-built model, costs tend to be higher as no "off-the-shelf-one-stop-shop" virtual solution exists. That means you have to stitch together a variety of solutions to deliver the seamless registration, content, and networking experiences you want attendees to have.
You have to realize that in a virtual environment, your company has become a media company and your content is a product you are selling.  To be successful you have to take on the cost of producing and distributing your content.  Few CMOs are used to paying the full cost of distribution, which means the cost of the additional technology, equipment, and expertise can be surprising if you're still thinking about this like a physical event.
3. Plan with strategic intent: Virtual events are conversation starters, not deal closers
Historically, most marketers think about events as moments in time; they're programs you produce and then you move on. In the virtual world, you have the opportunity to shift your organization's perspective from events as a point solution, to their being the start of a community you can engage – through multiple channels, campaigns and points in time.
In other words, if you're not thinking about your virtual event as the start of a year-long campaign, you're leaving value on the table. 
That means CMOs need to allocate more time, planning and resources to post-show activations (more on this #5 below) across your go-to-market organization. To maximize the value of the larger audience you can reach online, you need to develop customer journeys that keep the conversation going. This will require an audience-based approach where your touchpoints can vary from direct email to social to sales outreach and even follow-on events. 
4. Package the value: Virtual events provide better data, but value can be difficult to articulate
I've talked to numerous people who have had difficulty selling even their long-time sponsors on virtual event sponsorships. I attribute this to two issues:
Event producers haven't been able to articulate the true value of virtual events.

Sponsors haven't shifted their mindset to embrace the inherent benefits of digital.
In a physical world, sponsors were happy to have their brand associated with a show, speakers on stage. They could pick up some business cards (or scan some QR codes) at their booth, network in the crowd, and look potential customers in the eyes. All of the same opportunities exist with virtual events, only with greater value because of the richer targeting and engagement data.
For example, in the virtual world, not only can you get someone's contact information, you can see what sessions they say they're interested in, what sessions they actually went to, how long they stayed, who they shared your content with, whether they asked a question, and whether they took any follow up action. All of these are more granular signals of purchase intent or interest in a sponsor's offerings.  
Event producers need to spend more time articulating how companies can take advantage of this value, and marketers on the sponsoring side of the equation will need to evolve their thinking. One sponsor who at our CIO Summit, Silicon Valley Bank, is already ahead of the curve.
Rather than relying on the same activations used in-person, SVB delivered: 
Highly-quality explainer video detailing their services that ran before every main session

Senior executives to deliver an overview of each day's content and its relevance to SVB's mission 

Downloadable market report as value-add content to what was being delivered on stage.
5. Prioritize post-show activities: You don't get to strike the stage and go home
In organizing a typical in-person event, most time and resources go towards the pre-event and day-of efforts: attracting registrations, programming the content, delivering the content. Once the post-show clean up is over and you've handed off the leads to the sales team, there's relatively little marketing follow-up required.
Virtual events are completely different. The investment of marketing resources needs to be evenly distributed before, during and after the main event. That's because the virtual world generates so many assets, data, and interactions that your marketers not only should, but must, plan on leveraging them after the show, or you risk losing the majority of the potential value you created.  
Shifting your mindset to think of virtual events as a starting point — and not a singular moment in time — can help you realign your efforts and priorities.  Your investment in post-show planning and activities is where you will earn this value.
Building for the Next Normal
Most of us look forward to a world where we can host in-person events again. While virtual events have their unique advantages, they can never replace the energy of a conference full of intelligent colleagues and competitors, where the chorus of conversations strike new deals, partnerships and friendships.
While physical events will return in some capacity in the future, the trend of virtual and hybrid events will continue to accelerate. They, too, have their unique advantages, especially in efficiently bringing together parties across geographies. And so all marketers will need to adjust to the digital environment knowing that technologies, best practices and even relationships with our audiences are all rapidly evolving.
For marketers planning a virtual event, I wish you the best and hope these insights help you deliver an amazing experience. If you have additional lessons you'd like to share and best practices from your own virtual event experience, I'd love to hear about them at scott@sapphireventures.com.
Disclaimer: Nothing presented within this article is intended to constitute investment advice, and under no circumstances should any information provided herein be used or considered as an offer to sell or a solicitation of an offer to buy an interest in any investment fund managed by Sapphire Ventures, LLC ("Sapphire"). Information provided reflects Sapphires'' views as of a time, whereby such views are subject to change at any point and Sapphire shall not be obligated to provide notice of any change. Nothing contained in this article may be relied upon as a guarantee or assurance as to the future success of any particular company. The content and views contained within this article represent those of the authors presented, which do not necessarily reflect the views of Sapphire. Such views are subject to change at any point and do not in any way represent official statements by Sapphire. While the authors have used reasonable efforts to obtain information from reliable sources, Sapphire makes no representations or warranties as to the accuracy, reliability, or completeness of third-party information presented herein, which is subject to change. Past performance is not indicative of future results.