Blog Post
Bringing Mission-Critical Data Protection to the Cloud: Why We're Thrilled to Partner with OwnBackUp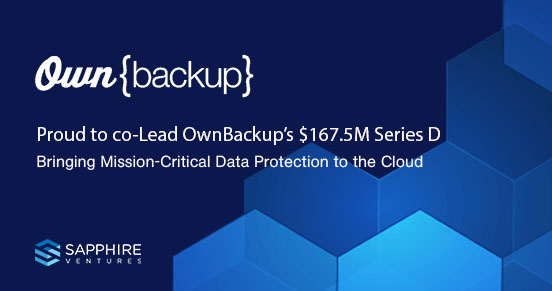 Despite conventional belief, the protection of mission-critical data stored in Salesforce and the majority of popular SaaS applications is the user's responsibility. Since end users, developers, administrators and even Salesforce updates are prone to creating errors, without appropriate recovery strategies and processes, organizations may suffer irreversible data loss and potential negative business impact.
OwnBackup uniquely solves this challenge, which is why we're excited to co-lead the company's $167.5 million Series D funding round. OwnBackup offers admins and developers peace of mind around SaaS data loss and corruption recovery, providing a comprehensive solution to backup, compare, recover, archive and manage large, complex, SaaS-based data sets. OwnBackup's primary goal is to enable its nearly 2,500 customers to take full ownership of the data they create in SaaS platforms, while capturing all the historical changes made to the data and keeping it accessible.
The Emergence of Backup for the Cloud
With the widespread adoption of cloud-based SaaS apps, customers have come to believe and expect that data stored in popular SaaS applications, like Salesforce, Microsoft Dynamics, ServiceNow, Workday, etc., is protected in the event of human error or a disaster recovery scenario. Unfortunately, it's not.
In instances where data is preserved by a particular SaaS vendor as a "last-resort," more often than not, it takes days or weeks to backup, causing significant business disruption. OwnBackup provides cloud backup, ensuring data protection and enabling the complex data recovery process that restores data in a targeted and nuanced method that a full rollback doesn't provide. OwnBackup's restore process protects mission-critical data and ensures business continuity in the event of data loss.
Companies can't afford to lose their invaluable data, which is why the market opportunity for OwnBackup is massive. The structured data backup market has experienced rapid growth with the rise in adoption and maturity of SaaS solutions. According to Gartner, by 2023, 40 percent of enterprise customers will implement third-party backup solutions to protect SaaS application data, up from 10 percent in 2019. 
OwnBackup: A Category Leader for Cloud Data Protection
Most SaaS apps like Salesforce share responsibility for keeping customer data safe, but customers are responsible for the errors and corruption they create themselves. OwnBackup provides a comprehensive solution to backup, compare, recover, archive and manage large, complex SaaS-based data sets. OwnBackup allows customers to maintain business continuity, relieving them of the burden of worrying about the loss of their valuable data stored in their SaaS apps.
Today, the platform currently supports Salesforce, nCino, Veeva and Sage, but the team has substantial plans to expand to additional cloud apps with this new funding round.
An Experienced Team Focused on Growth
OwnBackup CEO Sam Gutmann has worked in backup for nearly 20 years. Prior to OwnBackup, he founded Intronis, a backup company that ultimately sold to Barracuda in 2015. Sam has impressive domain expertise and excellent execution. Early-on, he saw the missing piece in the cloud transition: effective data backup and restore. 
In addition to Sam, we have been very impressed with OwnBackup's Head of Product and Strategy, Adrian Kunzle, who before joining OwnBackup was the EVP of Platform Products at Salesforce.  Together, Sam and Adrian make a formidable team that Sapphire is thrilled to partner with in their vision to bring SaaS backup to further ecosystems.
OwnBackup is a fantastic addition to our growing list of portfolio companies. We're thrilled to partner with OwnBackup in its mission to bring data protection to the cloud!
Disclaimer: Nothing presented within this article is intended to constitute investment advice, and under no circumstances should any information provided herein be used or considered as an offer to sell or a solicitation of an offer to buy an interest in any investment fund managed by Sapphire Ventures ("Sapphire"). Information provided reflects Sapphires' views as of a time, whereby such views are subject to change at any point and Sapphire shall not be obligated to provide notice of any change. Companies mentioned in this article are a representative sample of portfolio companies in which Sapphire has invested in which the author believes such companies fit the objective criteria stated in commentary, which do not reflect all investments made by Sapphire. A complete alphabetical list of Sapphire's investments made by its direct growth and sports investing strategies is available here. No assumptions should be made that investments listed above were or will be profitable. Due to various risks and uncertainties, actual events, results or the actual experience may differ materially from those reflected or contemplated in these statements. Nothing contained in this article may be relied upon as a guarantee or assurance as to the future success of any particular company. Past performance is not indicative of future results.