Blog Post
Transforming Data Infrastructure with Real-Time Analytics: Why We're Excited to Back StarTree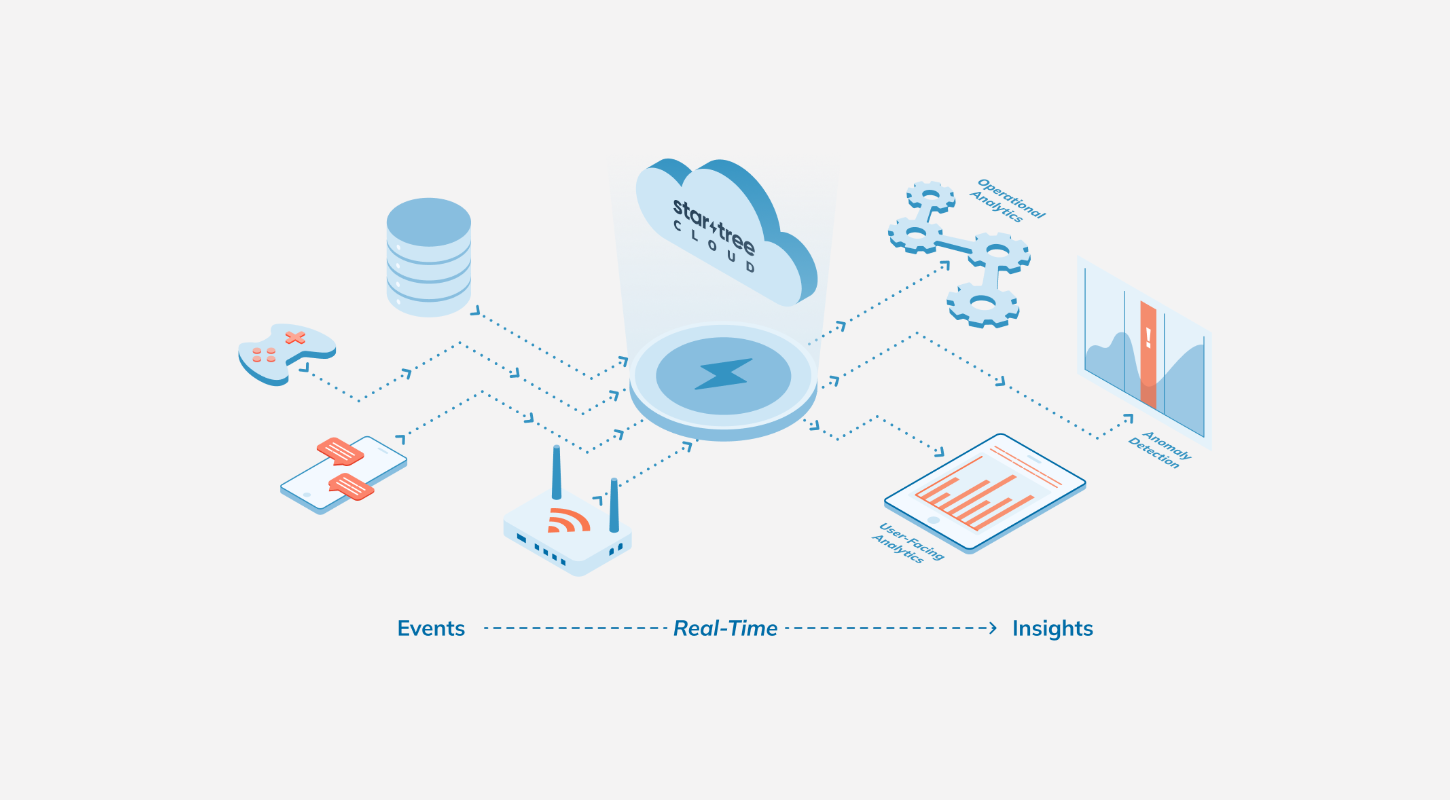 Throughout Sapphire's history of investing in B2B technology we have had a front-row seat in witnessing step-change innovations in data infrastructure. Today, one of the most exciting trends in the space is the secular shift towards real-time analytics, which is fundamentally redefining how data is processed and consumed.
That's why we at Sapphire are excited to back StarTree, along with co-founders Kishore Gopalakrishna (CEO) and Xiang Fu, in their $47M Series B. Founded in 2019, StarTree is harnessing the real-time analytical engine of Apache Pinot – which Kishore and Xiang developed while working together at LinkedIn – in enabling all companies to provide real-time analytics to their stakeholders.
Sapphire has a long history of investing in data infrastructure companies in areas including BI tools (Looker [acq. by Google], ThoughtSpot), databases (InfluxDB, Yugabyte), lakehouses (Dremio), ETL platforms (Matillion), and data catalogs (Alation). Additionally, we have had experience investing in foundational databases such as MySQL (acq. By Oracle) and Greenplum (acq. by VMWare). As such, we are thrilled to welcome StarTree to the Sapphire portfolio.
What is real-time user-facing analytics?
In the "old days", business insights were often only consumed by a limited group of stakeholders, such as executives and senior managers. These insights were often only available in batches at t+1 time after the events those insights were describing actually occurred (e.g., daily / weekly business reports). Since then, however, we believe the universe of stakeholders consuming business insights has grown and diversified massively.
Today, we think it is critical to equip external stakeholders—namely customers / end users—with these insights, significantly raising the bar for analytical performance compared to what suffices for internal-only consumption. (Imagine how frustrated a user of a food ordering app would be if it took minutes to find out what current wait times are for delivery from their favorite restaurant!) The questions end users are asking of business data must be answered instantly, with only the freshest insights, and served hyper-scalably.
In meeting the requirements of customer-facing UX, companies will delight the rest of their growing web of other data-consuming stakeholders, such as internal business analysts and corporate partners. In addition, the complexity of types of questions has also increased exponentially, which puts greater demand on data infrastructure.
The fundamental truth underpinning the importance of real-time analytics is that the value of data decays over time. Analyzing data in lockstep as it is generated paints the most accurate "current state" picture of our world – enabling instant insights on questions like "What are people around me ordering on my favorite food delivery app?", "What events are happening near me right now?", or "What are the latest trends from our global enterprise's payments and disbursement data?".
StarTree, the commercial entity behind Apache Pinot, is building data infrastructure to bring the world closer to this utopia of analytical capability. With founding origins as the backbone powering many of LinkedIn's user-facing applications, Apache Pinot has demonstrated its ability to perform ultra low-latency queries (on the order of milliseconds) over incredibly large stores of data (on the order of petabytes) at global scale. StarTree is furthering open-source Pinot's capabilities by providing extensible enterprise tooling including managed hosting on major cloud providers, tiered storage, interactive dataset management, and application integrations enabling extended functionality (e.g., anomaly detection.)
How StarTree Fits Into the Data Infrastructure Landscape
Since the advent of legacy ETL systems there has been continuous innovation in database functionality. Solutions like Snowflake, Databricks, Starburst, and Dremio (a Sapphire portfolio company) now serve as foundational pieces of the modern enterprise data stack; however, their utility largely lies in enabling batch queries to be performed by a company's employees (e.g., business analysts) for internal purposes (e.g., ad-hoc analysis of business performance). These solutions weren't architected with the requirements of user-facing applications in mind, which require sub-millisecond latency, extremely fresh and available data, and the ability to support a high volume of concurrent queries.
StarTree / Apache Pinot pick up where these solutions leave off. Pinot is powering a variety of mission-critical use cases for companies like Stripe (enabling analysis of hundreds of billions of rows of ledger-level financial data), LinkedIn (serving as the engine behind 50+ user-facing applications like "Who Viewed my Profile?" and dozens of internal applications), Uber (enabling analysis of in-app ad performance), Cisco Webex (delivering call and meeting analytics for billions of interactions every month), Walmart, Chase / WePay, Slack, and more.
The Team Executing Against the Opportunity
StarTree's stellar leadership team (pun intended!) is leading the charge towards the massive opportunity of real-time analytics. Kishore and Xiang co-authored Apache Pinot and subsequently watched it rise to prominence at companies like LinkedIn and Uber, supporting applications tens of millions of users interact with every day.
Their realization of the broad utility for Pinot's groundbreaking analytical engine—and the opportunity to support other companies by creating enterprise tooling to configure and manage its open-source software—compelled the founding of StarTree. To tackle this challenge the company has assembled an extremely impressive team with 50+ combined years of building and operating distributed systems like Kafka, Espresso, Helix, and Flink.
We are excited by the StarTree team's vision that every company should be empowered to offer their stakeholders real-time analytics of the likes of LinkedIn and Uber, and we are thrilled to join them on their journey.
Disclaimer: Nothing presented within this article is intended to constitute investment advice, and under no circumstances should any information provided herein be used or considered as an offer to sell or a solicitation of an offer to buy an interest in any investment fund managed by Sapphire Ventures ("Sapphire"). Information provided reflects Sapphires' views as of a time, whereby such views are subject to change at any point and Sapphire shall not be obligated to provide notice of any change. Companies mentioned in this article are a representative sample of portfolio companies in which Sapphire has invested in which the author believes such companies fit the objective criteria stated in commentary, which do not reflect all investments made by Sapphire. A complete alphabetical list of Sapphire's investments made by its direct growth and sports investing strategies is available here. No assumptions should be made that investments listed above were or will be profitable. Due to various risks and uncertainties, actual events, results or the actual experience may differ materially from those reflected or contemplated in these statements. Nothing contained in this article may be relied upon as a guarantee or assurance as to the future success of any particular company. Past performance is not indicative of future results.