Blog Post
Mobile Coaching and the Employee Renaissance: Why We're Excited to Back BetterUp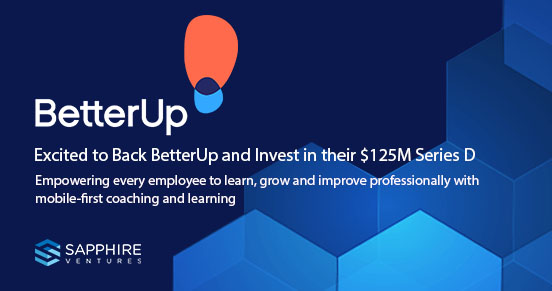 We've all been there: Looking to accelerate our career, trying to get to that next level professionally or simply seeking advice from someone who has had a similar experience. You hunt for an elusive mentor or coach, or wait for an annual performance review and ultimately resolve to do nothing. These frustrations, which can often lead to employees leaving their jobs, have only intensified during the past year as we juggle an entirely new work-life balance and come to grips with rising mental wellness concerns in an increasingly complicated workplace. As the lines of our professional and personal lives blur more than ever, the need for guidance on navigating career development and overall wellbeing has become of paramount importance.
Enter BetterUp. Launched in 2013, the high-growth startup takes a behavioral science approach to make workplace coaching and mobile learning accessible for every employee with clear alignment to business strategy. Its mobile-first, on-demand solution offers personalized and scalable coaching whenever and wherever an employee wants, addressing topics from career development to mental health, nutrition, sleep, and diversity and inclusion. As enterprises increasingly invest in the employee experience, BetterUp not only meets today's employee demands for professional development and care, but also lets HR leaders keep track of impact and progress with a concrete ROI.
With its unique approach to employee coaching, BetterUp has leaped to the head of the pack among employee professional development and wellness platforms. That's why we're thrilled to back co-founder and CEO Alexi Robichaux and his team, and are excited to invest in BetterUp's $125 million Series D funding round. 
Employees crave development opportunities 
In recent years, companies have been increasingly focused on the employee, providing them with opportunities for personal development. This trend has been driven by a generational shift in the workplace and by data that shows that employee engagement, development and wellness correlate with concrete business results.
Millennial and Gen Z workers, who make up at least

40% of the labor force

, expect much more than a paycheck. They are empowered and want to work for companies that care about them and invest in their professional growth. According to

Deloitte

, nearly 30% of millennial and Gen Z employees would leave their jobs in the next two years if they could because of a lack of learning and development opportunities. 

Businesses are also responding to

research

that links employee well-being to customer satisfaction and, ultimately, revenue. As companies compete to hire and retain talent, programs around employee development, engagement and coaching are in demand. The past year has only escalated this focus on wellness, as employees face unprecedented stress while working from home amid COVID.
It's no wonder that companies budget more than $50 billion per year for leadership development. But when it comes to coaching, a critical aspect of development that is highly effective for driving behavioral change, most still rely on expensive consultancies that are limited to executive ranks or one-size-fits-all seminars—both of which are tough to scale and seldom effective. With professional development clearly correlated with employee performance and business results, companies are looking for a next-generation solution like BetterUp. One that is not only accessible to a broader swath of employees, but is also truly scalable and drives behavioral change. 
Professional coaching where, when and how you want
BetterUp's platform has transformed how employees at any level can learn, grow and improve professionally. Its team is committed to building the largest online coaching platform on the market, already connecting employees with a network of more than 2,000 certified coaches.  
Built for mobile, BetterUp uses a proprietary algorithm to match workers with the best coach for them, a key factor in the success of any coaching program. Employees can interact with coaches in real time or asynchronously through mobile and web apps using video chat, texts and a robust content library. They can also access bite-sized content on topics such as resilience and team-building in the platform's on-demand library. 
BetterUp offers a number of different coaching options ensuring a personalized experience, including individual and group sessions on professional development, plus specialized options in areas like diversity and inclusion, sales performance and mental health. With mental health a priority for both the employer and employee, just today, BetterUp introduced BetterUp Care, a comprehensive mental health offering, which provides access to coaching with behavioral health specialists, curated content, on-demand support, parenting specialists, nutrition specialists, sleep specialists and more.  
BetterUp comes fully personalized to each and every employee—with individual assessments, goal setting and digital learning programs—while also being easily scalable for HR leaders. In addition, BetterUp offers extensive analytics around metrics like adoption, usage and satisfaction to help HR teams and managers evaluate concrete business outcomes. 
Passionate leadership dedicated to helping employees find purpose
After spending several years at enterprise companies like the Walt Disney Company and VMWare, co-founder and CEO Alexi Robichaux saw first-hand an opportunity for companies to improve employee wellness and invest in development. For him, helping employees find purpose has been more than a business—it's a calling. Hence the company's mission to help people everywhere live with greater clarity, purpose and passion. We believe that Alexi is one of those rare and unique executives who is going to take this mantra and change the world.
Sapphire is proud to invest in companies we believe to be of real consequence. With Alexi and his team deeply committed to supporting employee wellbeing, growth and success, BetterUp aligns squarely with Sapphire's values. We are dedicated to supporting the growth of our employees and are here to help our portfolio companies such as BetterUp along their journey. We couldn't be more thrilled to be partners.
If your job is to cultivate impassioned and hard-working employees as an HR leader, BetterUp is a must-have product you don't want to sleep on!
Disclaimer: Nothing presented within this article is intended to constitute investment advice, and under no circumstances should any information provided herein be used or considered as an offer to sell or a solicitation of an offer to buy an interest in any investment fund managed by Sapphire Ventures ("Sapphire"). Information provided reflects Sapphires' views as of a time, whereby such views are subject to change at any point and Sapphire shall not be obligated to provide notice of any change. Companies mentioned in this article are a representative sample of portfolio companies in which Sapphire has invested in which the author believes such companies fit the objective criteria stated in commentary, which do not reflect all investments made by Sapphire. A complete alphabetical list of Sapphire's investments made by its direct growth and sports investing strategies is available here. No assumptions should be made that investments listed above were or will be profitable. Due to various risks and uncertainties, actual events, results or the actual experience may differ materially from those reflected or contemplated in these statements. Nothing contained in this article may be relied upon as a guarantee or assurance as to the future success of any particular company. Past performance is not indicative of future results.