Blog Post
Sapphire Sport: Investing in the Future of Consumer Experiences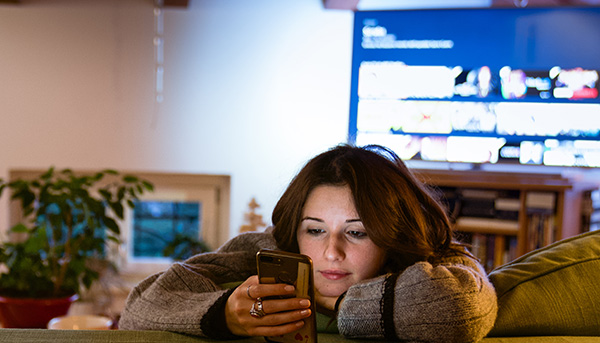 We are four-plus months into the 'new normal' and one thing is clear: how we consume, and the technologies that enable consumption, has fundamentally changed and there's no going back. Virtualization, gamification and personalization have become elemental to the consumption habits that we've formed, and in many ways industries have taken great leaps forward in leveraging those technologies. How we consume media and entertainment, how we consume fitness and health, how we buy and sell goods, and how all these things are ultimately delivered are in flux in this time of unprecedented change.
At Sapphire Sport we've been contemplating the future of consumer experiences since publicly launching the fund last year.  As we evaluate where the best investment opportunities exist, we keep coming back to a central theme: the trends we are witnessing now – interactivity, personalization, connectivity, digital commerce and the associated enabling technologies – were not brought on by COVID. We feel they were already present and we were already investing in this digital disruption. But COVID provided a massive accelerator that is reshaping how technology is applied across all the ways we spend our discretionary income, from digital commerce, to health and fitness, to media and entertainment.
Most industries have never had a need for technological innovation as much as during the current time. Global sport, media and entertainment is perhaps most notable in that regard. The void left by live sport underscores their cultural relevance. Look no further than the ratings of content like ESPN's The Last Dance and the return to action of certain European soccer leagues. The strength of the brands that stakeholders in these industries have built over decades is enormous, but the linkage between those brands and the end consumer in light of a global shutdown has shown that the path to creating long-lasting value and engaging the fan/consumer will increasingly come through technology.
We believe now more than ever people want to engage with the brands that they love, and the path to do so starts with technology. Live events will return in the future, but the digital connection for engagement, media and ecommerce will always be there.
At Sapphire Sport, we have taken this time since the onset of COVID to do several things:
First and foremost, we have focused on our portfolio, with an eye toward the fundamentals of building companies of consequence. Focusing on product above all, managing cash prudently, and exploring business development opportunities that have uniquely come about during these times.

We have been resolute in examining the core fundamentals of our investment thesis, which has always been rooted in the next-generation consumer. Areas like connected fitness and gaming, two of our prime focus areas, are thriving. At the same time, media-related technology has become increasingly important as media rights are largely holding the economic pie of global sport and entertainment together. Furthermore data-driven businesses and interactivity have taken great steps forward over the past three months.
As an example, Sapphire Sport's  investment in our portfolio company Tonal has shown us that when compelling technology intersects with a major marketplace opportunity, big companies can be created. Personalization of not just fitness but overall health is a major trend that had been moving forward steadily and has only been accelerated by COVID. How technology-enabled companies can help us in our lives, in body, mind, sleep, health care, is of ever-increasing importance. Across the Sapphire platform, we first became interested in these trends with our investment in Fitbit, and more recently Livongo, an innovative company that uses hardware and software tools to help employees of large enterprises manage their daily health challenges (such as diabetes and hypertension). 
Similarly, In the media world, our sport portfolio company Overtime continues to build a brand that is resonant with younger demographics by doing one thing well: focusing on the next generation consumer. They are telling the stories about the athletes and personalities that people want to hear, feel and interact with. Building a truly genuine brand that resonates with consumers is a hard thing to do, and in two major marketplaces where technological innovation is accelerating more quickly than ever before, these two examples have come into even sharper focus recently.
Building to the Next Normal
We also continue to focus on what makes us unique, leveraging the entire Sapphire Ventures platform combined with our value-added LP base that is inclusive of stakeholders from every part of the global sport media and entertainment world. At Sapphire, the thought leadership across our $1B+ growth investment platform, combined with our ten-person strong Portfolio Growth value-add services group, has been an extraordinary resource to our companies during these unprecedented times. We believe our strategic LP relationships have become even more relevant as we get a birds-eye view into these industries and the decisions being made which will shape their futures.
One additional takeaway as we navigate this period is that these trends have enabled us to expand our focus areas more broadly into the entire consumer wallet – with sport, media and entertainment as the backdrop – representing marketplaces where consumer habits are tangibly changing. 
We have made it our stated goal to invest in large markets with powerful growth trends driven by the emergence of Millennial and Gen Z consumers. This is in addition to our three original theses – Next Gen Media; Digital Health; and Esports and Gaming, all of which are experiencing significant tailwinds during this time. We are expanding on our approach in each; for example, including digital learning as part of our gaming thesis and diving even more deeply into the overall health marketplace.
The concept of the next generation consumer ties into all of this, and as such we are focused on seeking out specific segments where technology will positively impact the future of consumption over time. This includes areas like socially-enabled media, fintech and micropayments, commerce infrastructure, media infrastructure, and DTC ecommerce. In short, the focus is on how brands and stakeholders are using technology to connect with their customers. The next generation consumer continues to lead the path, and the question remains – what products and platforms can best serve this evolving paradigm? That's what we are focused on.
In venture, we have the benefit of having a long investment horizon. Some of the best companies in history were built during the most challenging financial crises of the past, and we expect 2020 to yield the same. Partner with great founders. Work with great co investors. Take pride and learn from the wealth of knowledge inherent in differentiated and industry leading LPs. That's what gets us excited at Sapphire Sport. We look forward to continuing our work.
Disclaimer: Nothing presented within this article is intended to constitute investment advice, and under no circumstances should any information provided herein be used or considered as an offer to sell or a solicitation of an offer to buy an interest in any investment fund managed by Sapphire Ventures. Information provided reflects Sapphire Ventures' views as of a time, whereby such views are subject to change at any point and Sapphire Ventures shall not be obligated to provide notice of any change. Nothing contained in this article may be relied upon as a guarantee or assurance as to the future success of any particular company. Companies mentioned in this article are a representative sample of portfolio companies in which Sapphire Ventures has invested in which the author believes such companies fit the objective criteria stated in commentary, which do not reflect all investments made by Sapphire. A complete alphabetical list of Sapphire's investments made by its direct growth and sports investing strategies is available here.The content and views contained within this article represent those of the author and guests presented, which do not necessarily reflect the views of Sapphire Ventures LLC. Such views are subject to change at any point and do not in any way represent official statements by Sapphire Ventures, LLC. While the authors have used reasonable efforts to obtain information from reliable sources, we make no representations or warranties as to the accuracy, reliability, or completeness of third-party information presented herein, which is subject to change.
Past performance is not indicative of future results.