Blog Post
Monday on a Thursday. Congratulations to Monday.com!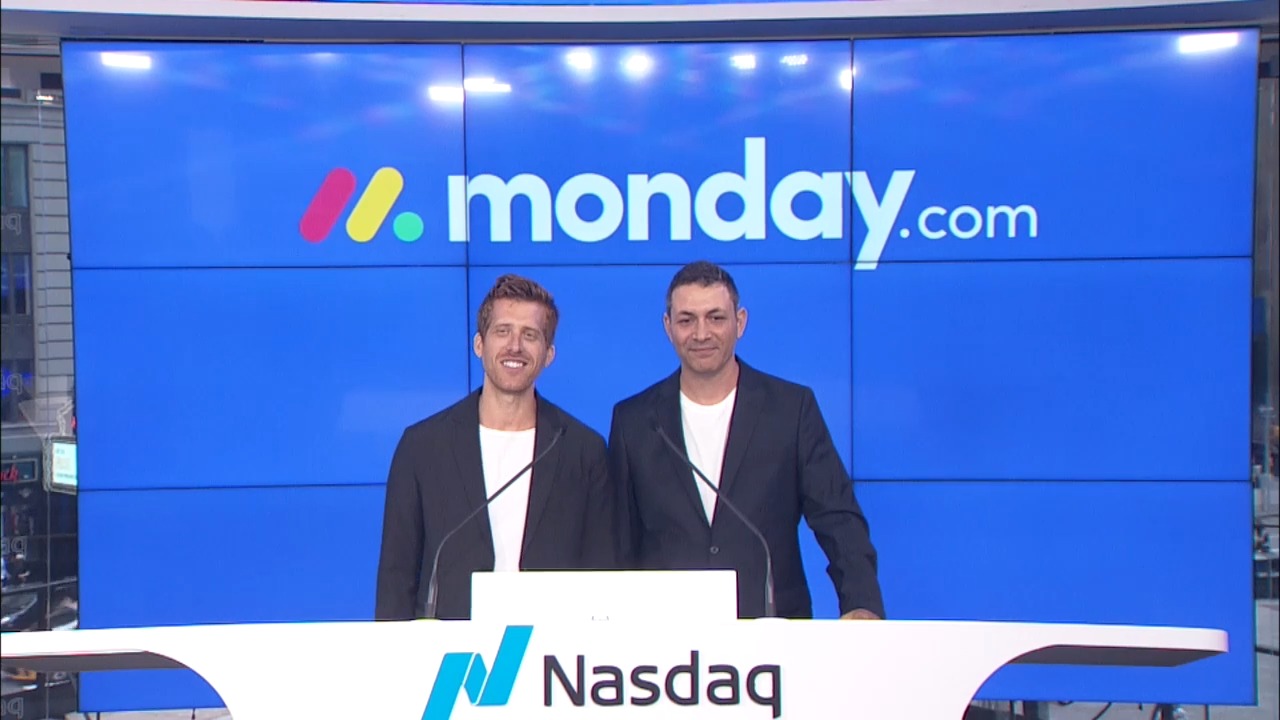 Thinking back to our first meeting with Monday.com co-CEOs Roy and Eran in 2017 reminds us of just how special that conversation was. We recall it vividly because of their torrid growth, the unique way they were driving the business and how they articulated the vision for Monday.com–a platform to help literally anyone achieve heightened productivity at work.
Four years later, we're thrilled to celebrate the entire Monday.com team on this incredible milestone of going public. An event like this serves as an appropriate time to reflect on what we believe makes Monday.com so unique as there aren't many companies to achieve their level of size, growth and overall impact.
Entrepreneurs who stay the course
Eran and Roy march to their own beat in the best way. Entrepreneurs are constantly met with doubt and questioning. It can be easy to shift course and become indecisive. That wasn't the case with Roy, Eran and team. Everything from sales compensation to building their own in-house business intelligence suite to operationalize and analyze their go-to-market is uniquely Monday.com.
While most SaaS companies are known to generate quick bookings by selling to other tech businesses, Monday.com took pride in their non-tech customer traction by signing on Unilever, HSBC, the NHL, Mars–to name a few. The single-mindedness of Roy and Eran to do things their way has fostered an organization-wide culture rooted in individualism, creativity and togetherness in the face of inevitable skepticism along the way.
A truly universal platform
At its core, Monday.com set out on a mission to change the way work was done. The vision for the business wasn't to build a better project management application, but rather to create a platform that any user across any industry, function and country could leverage to build their own applications that fit their day-to-day workflows.  From construction workers to law firms to tech marketers, Monday.com serves as the ultimate platform (and set of applications) that delivers an out-of-box experience but can still adapt to meet customized needs.
Driving a broader impact
At Sapphire, we partner with visionary teams and help them build Companies of Consequence. To us, "consequence" doesn't only mean revenues and valuation, but rather companies that are driving a broader impact on an industry or society at large. Beyond Monday.com's mission to democratize software, Roy and Eran have found every opportunity to use Monday.com for good. For example, the company recently launched the Equal Impact Initiative to further its mission of closing the digital divide between the for- and non-profit sectors by providing a robust digital transformation toolbox for nonprofit teams.
We're hugely grateful for the partnership with Monday.com. And we couldn't be more excited for Roy, Eran and the entire team on this next chapter of their journey–which in many ways is a new beginning!
Disclaimer: Nothing presented within this article is intended to constitute investment advice, and under no circumstances should any information provided herein be used or considered as an offer to sell or a solicitation of an offer to buy an interest in any investment fund managed by Sapphire Ventures, LLC ("Sapphire"). Information provided reflects Sapphires' views as of a time, whereby such views are subject to change at any point and Sapphire shall not be obligated to provide notice of any change. Companies mentioned in this article are a representative sample of portfolio companies in which Sapphire has invested in which the author believes such companies fit the objective criteria stated in commentary, which do not reflect all investments made by Sapphire. A complete alphabetical list of Sapphire's investments made by its direct growth and sports investing strategies is available here. No assumptions should be made that investments listed above were or will be profitable. Due to various risks and uncertainties, actual events, results or the actual experience may differ materially from those reflected or contemplated in these statements. Nothing contained in this article may be relied upon as a guarantee or assurance as to the future success of any particular company. Past performance is not indicative of future results.