Blog Post
On a Mission to Address Every Identity Use Case: Congratulations to Auth0 on Joining Forces with Okta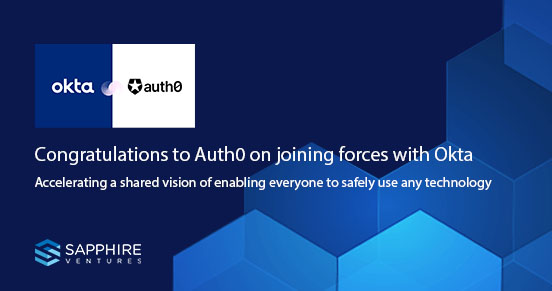 Earlier this month, Okta signed a definitive agreement to acquire Auth0 in a stock transaction valued at approximately $6.5 billion. Today, the deal closed, and we couldn't be more excited for Auth0, a Sapphire portfolio company specializing in authenticating, authorizing and securing access for applications, devices and users. This is an extraordinary next step in their journey, and we want to congratulate founders Eugenio Pace (CEO), Matias Woloski (CTO) and the entire team for all they've accomplished to-date.
But it's no less than they deserve. When we first met Eugenio and Matias, we knew they were building a company of consequence. Their hard working and charismatic personalities coupled with the company culture based on the principles of collaboration, experimentation, learning, transparency and passion, which they instilled in the business, makes them one of the most incredible leaders we've encountered. Specifically, Eugenio is one of those rare CEOs that has made us better, smarter people, and we're honored to have worked with him over the last few years. 
How Auth0 simplifies identity management for developers 
Where did it all start though? In 2013, Auth0 was founded with a mission to help companies improve authentication and authorization so that companies' customers and employees could easily access the information, platforms and resources they needed while also ensuring information and data was safe and secure. 
Over the last several years, the identity and access management IAM industry has exploded due to its growing strategic significance within an evermore digital world that operates across increasingly distributed environments, where 'identity' is the unifying means to use and access technology. Today, it's a critical element of any organization's security posture because of increased cloud usage, zero trust and digital transformation. And more recently, IAM and Auth0 adoption in particular has skyrocketed during the pandemic with remote work pushing users outside of the enterprise network, retail and entertainment moving to digital. While these factors have accelerated demand, they're also making delivering effective IAM an increasingly complex task.
Amongst the complexity, Auth0 has emerged as an industry leader, enabling customers such as AMD, Mazda, Pfizer, IKEA and tens of thousand businesses and organizations to solve their identity challenges. The company's unique IAM technology is designed for developers through an API platform, eliminating the need to create and maintain an authentication codebase or employ multiple identity providers. 
Why we backed the Auth0 
We initially met with Auth0 and Eugenio back in 2016. It was inspiring to see not only their pioneering approach of selling to developers rather than IT, but how they cleverly embraced the growth of APIs as a business model to drive major value in the IAM space. It was clear that their efforts meant that IAM was becoming a highly strategic technology investment. 
We were also excited by Auth0's rapid growth. They'd already solved complex and large-scale identity use cases for thousands of global customers. So, confident that we'd picked a winner, in 2018 we led a $55 million Series D investment in Auth0. We then led their Series E round a year later and recommitted our belief in Auth0 once again by participating in their Series F. 
Since then, the company has been fueling the advancement of its universal identity platform, accelerating fresh go-to-market programs and driving global growth. We've worked closely with Eugenio and the Auth0 team to evolve its approach to GTM, as well as improve the security, governance and accessibility aspects of its products. We've also helped them to think bigger with an 'enterprise solutions' focused, mindset. This has generated a much larger footprint across their existing user base representing over 6,000 new global customers and billions of logins secured each month. 
A grand finale to our Auth0 partnership
We're so proud of Auth0's management team and their milestone achievement. Eugenio, Matias and everyone at Auth0 have truly built a company of consequence. Their passion and very 'human' working culture has enabled them to retain an excellent team that's maintained its focus while growing so rapidly. 
Auth0 has always been special, and we believe that the future is bright for the company, now as part of Okta. Together, they'll accelerate their shared vision of enabling everyone to safely use any technology. They have an incredible opportunity to build the identity platform of the future, offering customers workforce and customer identity solutions with exceptional speed, simplicity, security, reliability and scalability. We wish them nothing but success ahead!
Disclaimer: Nothing presented within this article is intended to constitute investment advice, and under no circumstances should any information provided herein be used or considered as an offer to sell or a solicitation of an offer to buy an interest in any investment fund managed by Sapphire Ventures ("Sapphire"). Information provided reflects Sapphires' views as of a time, whereby such views are subject to change at any point and Sapphire shall not be obligated to provide notice of any change.Companies mentioned in this article are a representative sample of portfolio companies in which Sapphire has invested in which the author believes such companies fit the objective criteria stated in commentary, which do not reflect all investments made by Sapphire. A complete alphabetical list of Sapphire's investments made by its direct growth and sports investing strategies is available here. No assumptions should be made that investments listed above were or will be profitable. Due to various risks and uncertainties, actual events, results or the actual experience may differ materially from those reflected or contemplated in these statements. Nothing contained in this article may be relied upon as a guarantee or assurance as to the future success of any particular company. Past performance is not indicative of future results.