Blog Post
Baby, You Can Drive My Car ♫: Our Investment in Cazoo's £240M Series D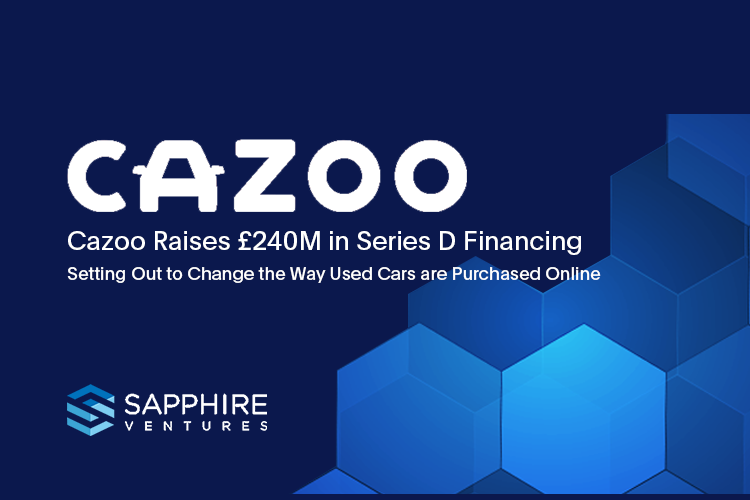 Cars have been symbols of personal freedom since long before the seminal Beatles song. But while owning a car is associated with choice, control, and independence, people rank buying a car as one of their least favorite experiences. The car dealer and an opaque and arduous process stand between them and the open road.
Online car marketplaces as well as car comparison and car discount sites have not significantly alleviated the pains of car buying. The experience has essentially stayed offline with low consumer satisfaction and trust and as one that many loathe.
Cazoo is setting out to fundamentally change the way used cars are purchased by enabling consumers to select from thousands of cars online, purchase the vehicle, and arrange delivery to their home in 72 hours. In the background, Cazoo utilizes proprietary data and pricing algorithms to purchase vehicles and offer consumers the best price. Cazoo then fully reconditions every car to ensure quality before listing them on the platform for purchase. Every car comes with a 7-day money back guarantee and a 90-day warranty and consumers can also obtain financing.
Today, we are thrilled to announce our investment in Cazoo's £240M Series D financing joining world-class investors, including General Catalyst, Octopus, LocalGlobe, and Stride, among others.
We believe Cazoo has all the ingredients to build a category defining company.
Used cars are the largest retail segment of the UK economy with 8 million cars transacted worth £50B last year, according to the Society of Motor Manufacturers and Traders (SMMT). It is a highly fragmented market with over 12.5 thousand retailers and the largest having less than 3% market share. Of the cars traded, less than 1% are purchased online today. This compares to 61% of UK consumers who are willing to buy a used car online, according to CarGurus's UK Sentiment Study. Covid-19 has accelerated this strong sentiment, and we believe that the resulting long-term macro trend of shifting from offline to online underpins the bold trajectory of Cazoo.
At Sapphire Ventures, we strive to partner with founders who have the vision and ambition to build Companies of Consequence. Alex Chesterman is that founder. We admire Alex for his unique ability to not only spot changing consumer trends in large markets, but also to execute on those opportunities flawlessly as evidenced through his prior companies Zoopla and LoveFilm. At Cazoo, Alex has put together a world class team that combines scaling experience and execution excellence, and we believe Cazoo is well on its way to becoming a European Company of Consequence.
Cazoo has already achieved impressive traction in its first year of operation with its differentiated business model in a large and untapped market. In addition to its large market, visionary leadership and experienced team, Cazoo also has the advantage of being able to look to America where Carvana and Vroom, two publicly listed companies, have established a successful playbook for the category. Cazoo may be able to leverage learnings from these companies in addition to benefiting from the structural advantages of the UK market with no slowing in sight to expand globally.
We are excited to be riding shotgun with Alex and team proverbially, and we look forward to supporting Cazoo in the next phase of company building.
"I am delighted to welcome Sapphire Ventures to our all-star investor syndicate and have their support for the next stage of our journey," says Alex Chesterman.
The whole Sapphire team is buckled up and looking forward to the ride, or in other words:
♫ Beep-beep'm, beep-beep, yeah
Disclaimer: Nothing presented within this article is intended to constitute investment advice, and under no circumstances should any information provided herein be used or considered as an offer to sell or a solicitation of an offer to buy an interest in any investment fund managed by Sapphire Ventures, LLC ("Sapphire Ventures"). Information provided reflects Sapphire Ventures' views as of a time, whereby such views are subject to change at any point and Sapphire Ventures shall not be obligated to provide notice of any change. Nothing contained in this article may be relied upon as a guarantee or assurance as to the future success of any particular company. (1) Companies mentioned in this article are a representative sample of portfolio companies in which Sapphire Ventures has invested in which the author believes such companies fit the objective criteria stated in commentary, which do not reflect all investments made by Sapphire. A complete alphabetical list of Sapphire Ventures' investments made by its direct growth and sports investing strategies is available here. While the Sapphire Ventures has used reasonable efforts to obtain information from reliable sources, we make no representations or warranties as to the accuracy, reliability, or completeness of third-party information presented herein, which is subject to change. Past performance is not indicative of future results.