Blog Post
Why The Health Should We Care
Last year, we reviewed healthcare market data to get a comparative view on healthcare relative to other sectors we invest in, such as enterprise and consumer. We concluded that 2016 was a strong year for healthcare investing across both healthcare IT and life sciences, and our analysis resulted in a Limited Partner (LP) commitment to an early-stage life sciences focused fund and two direct investments in later stage healthcare IT companies for Sapphire Ventures.
From an LP perspective, while healthcare generally has not been immune to pricing inflation, high demand for healthcare's large market opportunity has continued to boost the sector, making last year (2017) even stronger for healthcare investing than 2016. Healthcare fund investing continues to offer the opportunity for LPs to access sector experts and diversify portfolios away from the traditional return drivers of IT. As well, healthcare is exciting because of rapid change happening as government, employers and consumers push to reduce costs and improve experiences. These attractive characteristics manifest into Sapphire looking to deploy dollars into early-stage focused healthcare funds.
Healthcare remains compelling for us as new technologies and therapies play a larger role in value creation, including the $1.9 billion acquisition of oncology data company Flatiron health or $9 billion acquisition of CAR-T therapy company Juno Therapeutics, which generated large returns for venture capital investors. The larger industry theme of biopharma companies being willing and able to pay high amounts for VC-backed companies is attractive from the LP perspective.[1]
Our analysis for 2017 shows the investment and exit environment, as well as updated performance data for healthcare. Unless otherwise noted, healthcare figures include both healthcare IT and life sciences combined. Also, in the interest of full disclosure, this year we are using more of Pitchbook's raw data for our analysis, so some of the numbers below may differ slightly from last year's charts, though directionally they remain similar.
The chart below shows VC dollars invested in healthcare relative to total dollars invested across all venture capital. Since 2011, roughly one-third of all venture dollars invested per year has gone to healthcare investments, with more than $16 billion invested per year over the last four years. 2017 was a strong year with both total dollars and percentage of healthcare investments relative to total U.S. VC-backed financings going up.
Even though there was more money raised for healthcare investments in 2017 than in 2016, there is still a gap between the capital raised by funds and the total capital that flows into healthcare investments. Specifically, there was $9.1 billion raised for healthcare funds in 2017, and $21.3 billion invested in healthcare companies, indicating a $12.2 billion shortfall of dollars raised to dollars invested. Moreover, of the $9.1 billion raised for healthcare, roughly 60% was raised across 19 health-dedicated managers, while the other 40% was raised by generalist VCs. This implies that the majority of capital being invested into healthcare companies is not being put into the system by healthcare dedicated funds. How will this play out in an industry that's highly specialized?
In 2016 in the chart above, roughly one-fifth of the total dollars raised per year were for healthcare; in 2017, that relative percentage has increased up to roughly one-third of capital raised. Going one layer deeper in the below chart, the amount invested in biopharma and healthcare IT has continued its torrid pace, with banner years for biopharma and software in 2017.
The pacing of deals has remained constant in recent years, indicating that more capital is being invested in larger rounds, potentially at the later stage, which is similar to the trends we see in traditional IT.
Focusing on healthcare IT, the number of investors, especially ones just starting to invest in healthcare, has increased year over year. And those firms have at least three or more deals, highlighting that while more investors are just starting to invest in healthcare, there are also more investors that now have an active strategy for identifying and investing in healthcare technology companies.
So why does healthcare activity continue to tick up? In addition to structural reasons (need for lower costs and efficiencies), regulatory reasons (ACA, HITECH Act), and technology (digital care becoming more of a reality), the renewed interest from LPs in healthcare may be driven in part by attractive investment returns with over $100 billion in distributions from VC-backed healthcare investments over the last four years since 2012.
On the macro level, M&A picked up the pace recently with several mega-buys and mergers, including CVS buying Aetna for $69 billion, UnitedHealth Group expanding its presence in outpatient services through the DaVita acquisition, several healthcare networks consolidating, the potential acquisition of Humana by Walmart, and more. However, in terms of VC-backed exits, biopharma still holds the lion's share of exit value, which has translated into larger fund sizes for most investors in biopharma.
For public market listings, biopharma also dominates value creation. Moreover, despite several very large private financing rounds, there were no healthcare IT IPOs in 2017, which is not attractive for an LP thinking about investing in early-stage healthcare IT VCs because this may indicate extended hold periods.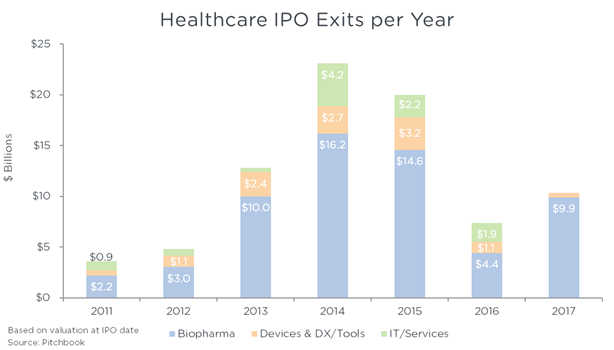 Since 2011, healthcare IT (or the "Digital Health" index as defined by Rock Health specifically) has relatively underperformed public market indices, including NASDAQ and S&P 500, as well as the Sapphire SaaS index.
However, in 2017, healthcare IT outperformed the NASDAQ and S&P 500, though still underperformed SaaS.
Moreover, the revenue multiples are more attractive for SaaS than healthcare IT, which may be one reason why there were no healthcare IT companies that were publicly listed in 2017, given the lower pricing environment.
Overall, while there are still some challenges with healthcare IT, namely, increased competition from new investors entering the sector and fewer exit opportunities (recently), the trends in healthcare are still attractive enough to warrant investments, especially from those with specialized healthcare expertise and an understanding for how to find venture scale opportunities.
In our own IT portfolio, several of our GPs have expanded their strategy scope and at times hired an in-house healthcare expert to address the market opportunity. We remain excited to partner with dedicated experts and given the continued attractive biopharma trends, we also remain excited to selectively invest in this area as well.
[1] Flatiron Health was a portfolio company in a fund Sapphire invested in as a Limited Partner.
Thanks to Eugene, Laura, Meghan, and Saurabh for your help and feedback!