Blog Post
#gettingInvolved with Customer Success: Here's Why We're Thrilled to Lead involve.ai's Series A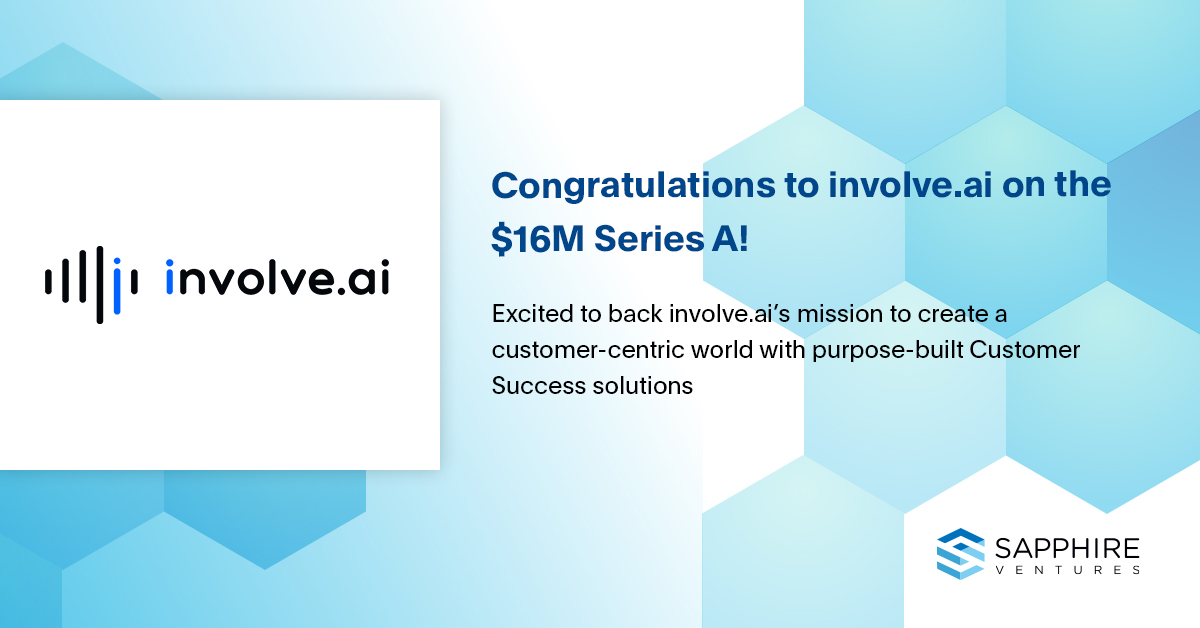 As more businesses shifted from perpetual to subscription-based pricing models over the past 10 years, delivering exceptional customer experiences and continuous engagement have become a strategic priority and an important investment area for business leaders. At Sapphire, we have backed many entrepreneurs building solutions that enable seamless and delightful customer experiences like UJET and Gorgias for customer support, Podium for messaging, Contentful for publishing content, and Clari, 6Sense, Outreach and Highspot for sales enablement.  
Delivering a world-class customer experience (CX) is a team sport, requiring collaboration across sales, marketing, product, support and customer success (CS). Increasingly, many organizations view CS as an essential, revenue-generating role due to its responsibility in helping customers reach an "aha! moment," which can happen through quick onboarding and a focus on continuous education and engagement to drive renewals and upsells. When done right, CS not only increases revenue and boosts retention, but strengthens loyalty and builds brand. And for companies that rely on self-serve or product-led models, CS may be the first touchpoint with the customer!
Last year, the pandemic enforced the criticality of CS as companies of all sizes tightened budgets and re-evaluated contracts with a critical eye. CS teams were on the front lines, determining whether or not a customer would churn by quickly adapting to customers during a crucial time. Through discussions with dozens of CS leaders over the past couple of months, we were surprised to discover that even with the proliferation of tools for adjacent functions within CX and expansion of budgets to support CS teams, very few solutions exist that target modern CS teams. First-generation CS tools often require major upfront capital and a long time to value. As a result, most CS teams rely on manual Salesforce exports and spreadsheets, making it nearly impossible to understand customer health in real-time–especially the case during a volatile period. 
That's why we were so excited when Mary Poppen, Chief Customer Officer at Glint, told us about Involve.ai. Soon after, we met with founder and CEO Gaurav Bhattacharya, and heard about his vision for a CS intelligence and workflow platform that allowed CS teams to track real-time customer health–and to do it in a completely automated way. That's when we knew we had to partner. 
Involve takes a fundamentally different approach compared to incumbents by being the only vendor in the market building an intelligent, ML-based platform that generates predictive insights around churn and expansion opportunities, and eliminates manual data entry. Involve automatically ingests and aggregates structured and unstructured customer data from tools such as Salesforce, Outlook, Slack, Zendesk, Snowflake, and Gainsight, and applies machine learning models to extract hidden insights in real-time. Customers are able to gain extreme accuracy with existing users experiencing 80+% prediction accuracy immediately after historical data analysis, and improving from there to 90+% as more data is collected over time. Involve went to market just last October, but has quickly been able to land large enterprise accounts. We've heard rave reviews from customers about how Involve's platform was a game-changer for their CS teams, driving significant revenue to their organizations. 
In particular, customers shared that co-founders Gaurav (CEO) and Saumya (CPO) were laser-focused on delivering the absolute best product and experience. They're also incredibly humble and empathetic people. One customer said, "They are the nicest people you'll ever meet, but beneath that, they have tremendous intensity!" It's no wonder that when I met Gaurav and Saumya back in March, we immediately clicked. All three of us are first-generation immigrants, and bonded over our upbringings and our collective love of dogs. They are also a duo that works in lockstep–their communication, trust and teamwork reflect 15 years of friendship. Their relationship, deep empathy for customers and remarkable scrappiness has allowed them to overcome problems, big and small, and build an innovative and (what I believe to be) the best-in-breed CS intelligence platform.
As long as a company has customers, then it's worth investing in CS. Now is the time to empower Customer Success to become a growth driver! We are excited to lead Involve's Series A, and support the team on their journey to bring intelligent, data-driven insights and workflows to enhance customer experiences. 
Check out Involve's SOC-2 certified product here, read our blog on why CS is important and check out our CS playbook for anyone starting to invest in CS. 
Disclaimer: Nothing presented within this article is intended to constitute investment advice, and under no circumstances should any information provided herein be used or considered as an offer to sell or a solicitation of an offer to buy an interest in any investment fund managed by Sapphire Ventures, LLC ("Sapphire"). Information provided reflects Sapphires' views as of a time, whereby such views are subject to change at any point and Sapphire shall not be obligated to provide notice of any change. Nothing contained in this article may be relied upon as a guarantee or assurance as to the future success of any particular company. Companies mentioned in this article are a representative sample of portfolio companies in which Sapphire has invested in which the author believes such companies fit the objective criteria stated in commentary, which do not reflect all investments made by Sapphire. A complete alphabetical list of Sapphires' investments made by its direct growth and sports investing strategies is available here. Various content and views contained within this article represent those of third party guests, which do not necessarily reflect the views of Sapphire. Such views are subject to change at any point and do not in any way represent official statements by Sapphire. While the Sapphire has used reasonable efforts to obtain information from reliable sources, we make no representations or warranties as to the accuracy, reliability, or completeness of third-party information presented herein, which is subject to change. Past performance is not indicative of future results.